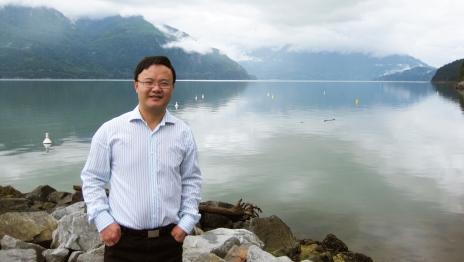 An international informatics expert has joined Victoria University to bolster the strong research performance in that area.
Professor Hua Wang joins the Centre for Applied Informatics (CAI) as research leader, bringing with him more than 10 years of academic and industry experience in electronic commerce, business process modelling and big data analysis.
"My research focus here is on how we can use analysis of big data sets to better organise social communities, whether by regulating traffic pollution and environmental impact from industry or by better organising education and business networks to function more effectively," he said.
Professor Wang said the move to CAI was driven by his desire to make strong research contributions in his field.
"The CAI is a well-regarded research centre that provides an excellent platform for researchers in the field of informatics," he said. "They have a strong research culture, a very strong record on grant applications and industry connections that enable high impact research."
He said he was also interested by the University's mission to support research that promoted community health and wellbeing.
Professor Wang was previously with the University of Southern Queensland and before that Head of Software Group in the Department of Post-Communication, China. 
As a chief investigator, Professor Wang has won  three Australian Research Council Discovery grants since 2006, and  authored 155 peer reviewed scholarly papers, including 34 papers ranked A/A*. Six PhD students have already graduated under his principal supervision.
College of Engineering & Science Dean, Professor Chris Perera, said Professor Wang's appointment was part of a strategy to further bolster the university's strong research performance in applied informatics.
"I congratulate Hua on his appointment and am excited about the knowledge and experience he will bring to VU," Professor Perera said.