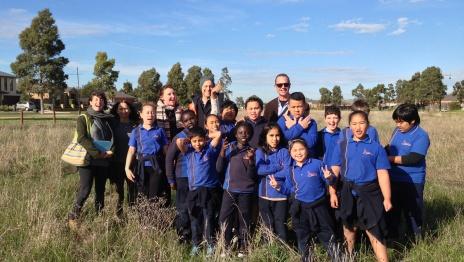 Researchers are working with primary schools to involve them in a new community-based environmental monitoring project.
Victoria University's Dr Martin Fluker and fellow researchers are taking the innovative 'Fluker Post' technology to a new generation at Clifton Springs Primary School, Warrnambool East Primary School and Derrimut Primary School through the Fluker Post Schools Project.
Fluker Posts contain a small platform for a camera and instructions on where to point, shoot and email the photo and are placed at points in need of environmental monitoring. The photographs, taken by park users, are then uploaded to a central site allowing land managers to monitor these points over time. There are now 79 Fluker Posts around Australia and several soon to be installed in the US.
"The success of Fluker Posts is their simplicity: they have minimal set-up or maintenance costs yet deliver on the need for monitoring large and often remote natural environments through citizen science," Dr Fluker said.
Students at each of the schools will be using the collections to develop a better understanding of the changing environments, both in their own neighbourhood and at those of the other participating schools.
The images will be posted to a central website, developed with project funding from the Telematics Trust.
"The project aims to build and evaluate an interactive website for primary school students to collaborate with other students, environmental scientists, land managers and their wider community to share what they learn from this community-based environmental monitoring project," Dr Fluker said.
The project team also includes Victoria University's Dr Naomi Auger, Dr Efrat Eilam, Dr Randal Robinson and Dr Megan O'Shea, Deakin University's Dr Julianne Lynch and RMIT University's Dr Georgia Garrard.
Work on the Fluker Post Schools Project website has just begun.