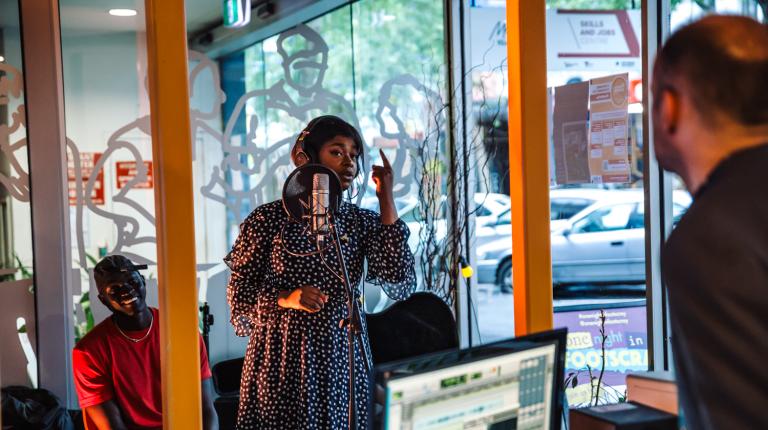 On one night over 30 creative activations will take place across central Footscray as One Night in Footscray returns for a third year.
Established by Footscray University Town, a partnership between Victoria University (VU) and Maribyrnong City Council, One Night in Footscray showcases Footscray as a creative hub in the inner west of Melbourne.
The initiative is based on an American model where galleries and museums would hold their exhibition openings on the same night and audiences could enjoy walking from gallery to gallery and in between immerse themselves in roving performances, markets and installations.
"One Night in Footscray began as an idea for local gallery's and artist run initiatives to share and grow audiences," said VU's Manager of Place and Creative Programs, Bec Carey-Grieve
Since its beginning in 2017, One Night in Footscray has been "delighting local audiences and creating an opportunity for those to further explore Footscray's creative potential", continued Bec.
The result is a unique annual event that brings together local talents across a range of creative platforms such as music, dance performances, art exhibitions, installations, interactive exhibits and roving performers.
This year, the event is held on Friday 22 November. Immerse yourself in all Footscray has to offer across the evening by taking part, viewing, bringing the family or dancing the night away in a plethora of exciting and thought-provoking activities.
Victoria University's students, staff and collaborators are involved throughout the program, either as artists, performers or hosting venues.
Footscray Train Station will become the stage for The Choir of Opportunity, which was originally set up to celebrate VU's centenary in 2016, whilst the forecourt will boast an energised set of contemporary sounds by VU's Music Agency from 6-10pm.
VU at MetroWest will be a central hub from 5-10pm as it hosts numerous activations, including exhibitions and performances.
Peer into the front window to see a pop-up recording studio in action, where Victoria University Polytechnic music students will be recording other One Night in Footscray singers and musicians.
View a large collaborative needlepoint artwork that took mentor and renowned local artist Jessie Deane and community members 6 months to create as part of the ThreadIN initiative for this year's 16-Days of Activism Against Gender-Based Violence campaign.
Be taken on a journey showing the fruition of 12 months of hard work and dedication by the Victoria University Visual Arts Graduates, with their final artworks and portfolios on display in the main gallery space. The evening provides great exposure for VU Poly graduates who exhibit each year, with over half of their exhibition selling out last year on the night – for many this was their first ever sale.
Adjacent will be an exhibition commissioned by cohealth, highlighting the strength, capability and creativity of people from refugee and asylum seeker communities.
This is just a taste of what to expect during One Night in Footscray. 
Event details
Friday 22 November
5pm till late (various start and finish times)