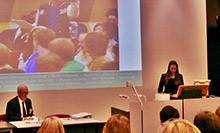 On 9 and 10 April, during the Easter holidays, The LEAP into Law program ran a two day Legal Studies & Australian Politics workshop at Victoria University Law School.
Victoria University is the lead institution for LEAP into Law, a cross-institutional 'introduction to the professions' project aimed at engaging low SES school students with universities and professional communities to demystify the links between school, higher education and professional careers. LEAP stands for Learn, experience, access professions.
The workshop was attended by years 10, 11 and 12 students from 28 schools across Melbourne and regional Victoria. Students were welcomed by The Honorable Nicola Roxon, Chair of the Sir Zelman Cowen Centre at Victoria University.
Working in teams, students competed in a number of challenges and practiced their communication, negotiation, teamwork and leadership skills. Attendees were mentored by current Victoria University law students, met a range of legal professionals and heard from special guest speakers.
It was fantastic to see the commitment of students and their desire to finding out the information needed to make the best possible decisions for themselves in the future. Students were asked to complete an evaluation form after the workshop and feedback was overwhelmingly positive.