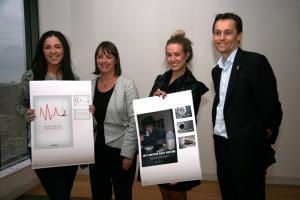 Two Victoria University graphic design students have each received $500 from Federal Health Minister Nicola Roxon for their winning anti-smoking posters.
Caitlin Ward, 21, of Eltham, and Georgia Watts, 21, of MacKinnon completed the project as part of their Advanced Diploma of Arts (Graphic Design).
Caitlin's design features the image of a stubbed-out cigarette at the end of a heart monitor graph, while Georgia's shows a photograph of young man eating cigarettes in a cereal bowl as part of his daily routine.
All 16 students in the course had five weeks to develop the poster and a series of postcards that might be used for a national campaign to help reduce the number of Australians who smoke.
Winners were judged by Minister Roxon and Todd Harper, CEO of the Cancer Council Victoria.
Since 2000, Ms Roxon has set a design project for students from VU's School of Creative Industries related to her electorate of Gellibrand.
This time, in a year when the Government is set to legislate the world's first plain packaging legislation, Minister Roxon challenged the students to help create a new anti-smoking campaign.
"I was blown away by the fantastic ideas and concepts I saw," she said. "When deciding on the winners, we took into account the design, the message, and how closely you looked at our needs as a potential client."
Creative Industries School Head Darren Brown said the project was a successful example of the University's learning in the workplace philosophy.
"The students received detailed research and project objectives, and they were expected to treat this in the same way as a brief from any external client," he said.
All of the students' designs will be available on the Cancer Council Victoria website and on Minister Roxon's website.