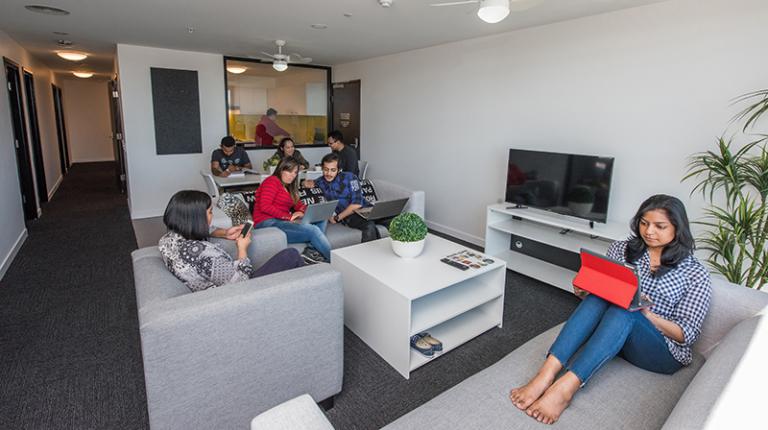 Victoria University is the first university in Australia to offer guaranteed accommodation to new and continuing full-time domestic and international students from 2018.
While some Australian universities offer guaranteed accommodation to their first-year students, VU is the only one to make this offer to all its full-time students, at all levels.
This unique offer is in partnership with UniLodge, a leader in student-accommodation.
VU's Vice-President of Students, Infrastructure and Digital Technologies, Professor Richard Constantine, said the guarantee will enrich the educational experience of VU students by providing them with immersive, 'living on campus' opportunities.
"This guarantee will provide peace of mind for students and their parents by relieving the stress many students face in trying to find suitable accommodation."
Students can stay at the new, high-quality 12-storey UniLodge Victoria University, which opened in 2016 opposite VU's Footscray Park Campus, and is a short walk to Footscray Nicholson Campus and Footscray train station.
The accommodation contains 515 beds in a range of configurations, from private studios to six-bedroom apartments. It is fully equipped with modern kitchens and bathrooms and furniture, and has common areas for study and recreation. Residents also receive discounted access to VU's Footscray Park gym, pool and car park.
UniLodge also offers:
residential life and wellbeing programs
academic support
a range of social activities
leadership opportunities.
If demand exceeds supply at our Footscray accommodation, UniLodge will provide accommodation at another UniLodge property in Melbourne.
General Manager Harry Vogue said all UniLodge-controlled properties offered the same high standard of management, pastoral care, and security.
"Living in dedicated student accommodation offers students the opportunity to mix and meet other students, and has proven to lead to better academic performance," he said.
To be eligible for VU's guaranteed accommodation offer, domestic and international students must have accepted their offer to study at Victoria University or our TAFE division Victoria Polytechnic, for a minimum of 12 months.
For more information or to apply see the accommodation guarantee or call UniLodge Victoria University on +61 9998 8490.
From October 2019, UniLodge @ VU is known as UniLodge Victoria University.