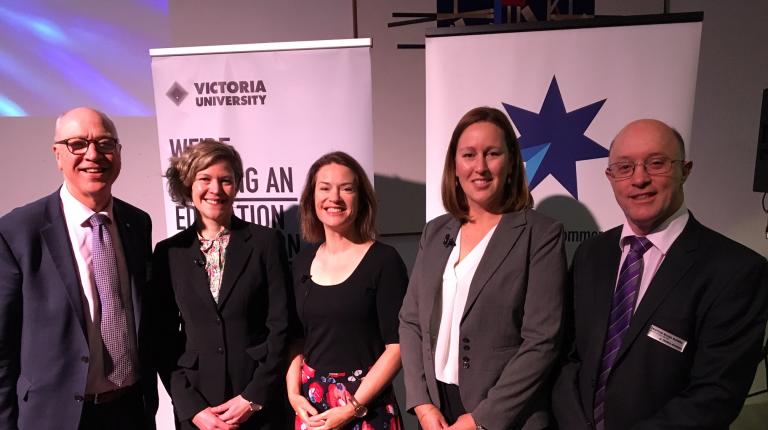 Ignite+VU: Mental Health – it's on everyone's mind was a packed event at Footscray Park, which focused on the state of Victoria's mental health.
The new initiative, supported by the Victorian Chamber of Commerce and Industry, promotes collaboration in mental health. This provided a unique opportunity to showcase VU academics' work to a range of businesses, industries and government leaders.
VU staff were joined by:
Mr Andrew Tulloch, Executive Director Innovative Economic Development
Mr Mark Stone, Chief Executive Victorian Chamber of Commerce and Industry
Dianne Smith Chief Executive Melbourne Chamber of Commerce.
Opening remarks acknowledge community needs
Vice-Chancellor Professor Peter Dawkins opened the showcase with a sobering reminder about why now is the time to address Victoria's mental health issues.
"At VU, we know that Australia's mental health system is not meeting our community's needs. Victoria is currently leading the way with the recent Royal Commission into Victoria's Mental Health System and Victoria University is at the forefront of research and best practice," said Professor Dawkins.
Poor mental health is a significant individual, social and economic problem and with denser urbanisation, ingrained social media use and increasingly sedentary lives, it is worsening. The distribution of poor mental health is also unequal in our community.
VU academics showcase expertise
VU researchers who presented at the event in their specialist areas were:
Dr Sian McLean, Psychology and Research Fellow in the Institute for Health and Sport
Professor Alex Parker, a clinical researcher who specialises in physical activity and mental health
Associate Professor Melinda Craike, internationally recognised researcher with a track record in understanding physical activity.
Television journalist Alicia Loxley hosted the post-event Q&A session with the academics, discussing interventions and looking at economic barriers to accessing good health. The expert panel discussed using physical activity (from walking meetings to lunchtime yoga sessions) to combat mental-health issues. Social media emerged as a tool, when used appropriately, to promote physical activity and improve our mental health, at home, in the classroom and at work.