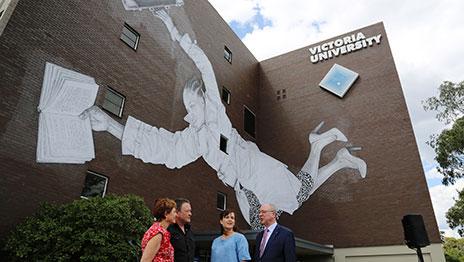 A giant mural of a woman flying through the air has been installed on the side of Victoria University's Footscray Park engineering building to celebrate the University's long-held support for the arts.
Renowned local street artist Baby Guerrilla was commissioned to create the six-storey high canvas work facing Ballarat Road. It depicts an African woman dressed for work holding a book in one hand and a briefcase in the other.
Baby Guerrilla chose to remain anonymous for the unveiling to support her belief that art should be set free from the constraints of a gallery, a picture frame, and even the personal identity of the artist.
The idea for the commission came from student Laura Main, the 2013 arts editor of VU's student-produced creative arts journal Offset, in conjunction with VU creative writing lecturer, John Weldon.
The mural was unveiled on Tuesday 4 March by College of Arts Dean Associate Professor Bronwyn Cran, and Vice-Chancellor Peter Dawkins.
Associate Professor Cran said that Victoria University was committed to raising the profile of creative arts in the west.
"Footscray is a creative hotspot with a growing population of professional artists, local arts festivals, and committed arts organisations," she said. "This creates an intersection for dialogue between established art practitioners and our budding students of art."
Vice-Chancellor Peter Dawkins said that the powerful mural transformed an ordinary brick building into a shared community asset.
"You have delighted our imaginations, given us cause for reflection, and encouraged us to connect to our community," he said.
This project reflects the shared vision of Victoria University and Maribyrnong City Council to transform Footscray into a 'university town' that will nurture, promote, and integrate the renaissance in art, education, sport and innovation now taking place in the region.