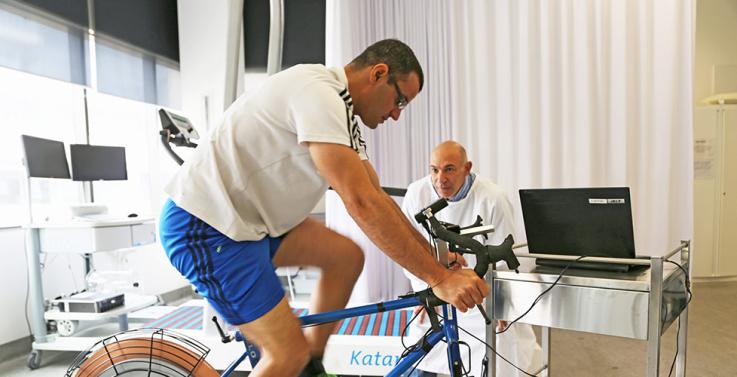 A major study into why people get different results from the same workout has featured on ABC TV's Catalyst.
Professor David Bishop and his team were the lead story on Australia's leading science TV program Catalyst, showcasing their cutting edge research project.
Fellow researcher Dr Nir Eynon said the link between the ACTN3 gene and better results from physical training was already known, but a large-scale trial to prove that link's extent has not been carried out - until now.
"For the first time on a large scale this study will explain why you can have two people at the same base fitness, eating the same foods and doing the same workout three times a week, but one increases their oxygen capacity by 30% and loses 2 kg while the other increases their oxygen capacity by just 5% and doesn't lose any weight," Dr Eynon said.
Researchers have already screened more than 100 people this year but are still seeking more 18 to 40 year-old male participants for the 4 week high intensity exercise program to see how they respond.
"Participants will complete a cutting edge high intensity training regime that should elicit better results than whatever program they are currently involved in, delivered by leading sports scientists in our facilities here at the Institute of Sport, Exercise & Active Living," he said.
Participants will have their genetics and other physiological information tested before, during and after the training program, involving three exercise sessions per week. They will also receive an individual consultation and nutritional advice from a dietitian.
"This research will lead to better targeted individual training programs if coaches can eventually know what you are programmed to respond to most effectively. In the short term, for those participating, it's a great chance to get some good results from a workout and learn about your body and how it responds to first class training," he said.
Victoria University has received funding from the Australian Research Council to conduct this research.
This research project has featured on both ABC 1 Catalyst TV and Channel 7 News Melbourne.
To learn more about this study visit www.vu.edu.au/speed-gene or contact Dr Nir Eynon.
Dr Nir Eynon
Phone: +61 3 9919 5615
Mobile: +61 451 440 796
Email: [email protected]