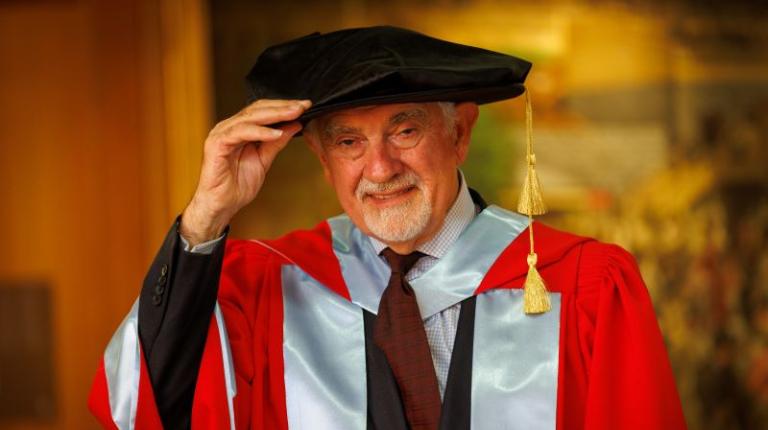 Former Victoria University (VU) Chancellor, George Pappas AO, received an Honorary Doctorate today to recognise his significant contributions to higher education, business, and philanthropy in Melbourne's west and beyond. 
Dr Pappas served as VU's fourth Chancellor from 2010 to 2019, bringing to the University his vast business experience and networks, and a brilliant strategic mind.
He was a strong advocate of introducing the Australian-first VU Block Model of teaching and learning in 2018, and worked closely with then-Vice-Chancellor Professor Peter Dawkins to ensure its proven success in increasing student success, retention and engagement. 
As a migrant from the island of Rhodes in Greece who came to Australia with his family at age six in 1952, Dr Pappas displayed a strong belief in the power of education to transform the lives of students, especially those from diverse cultural and socio-economic backgrounds – many of whom were first in their families to go to university.
Dr Pappas and his wife Jill, are generous philanthropists and have contributed widely to VU scholarships for asylum seekers and First Nations students, and to VU's work with AVID Australia, a whole-school improvement system that supports teachers and school leaders to raise the education outcomes of under-achieving students. They also contributed to VU research appeals and to VU's 2016 Centenary Campaign, among many other causes.
After graduating with a Bachelor of Economics with First Class Honours from Monash University in 1968, and an MBA with Distinction from Harvard Business School in 1971, Dr Pappas joined the international management consulting firm, Boston Consulting Group (BCG) in the USA, before returning to Australia to co-found Pappas Carter Evans and Koop (PCEK).
It became the country's leading management consultancy before it was eventually acquired by BCG, where Dr Pappas remained as a member of its worldwide Executive Committee.
Busy even in retirement
Dr Pappas undertook a range of State and Federal Government assignments after retiring from consulting in 2002, which included serving as Under Secretary of the Victorian Premier's Department from 2003 to 2005, and leading an audit of the Federal Defence Budget in 2008.
He was appointed Chairman of the Committee for Melbourne in 2005, leading its efforts to support new and innovative industries, and promote Melbourne as a centre for higher education and biotechnology.
His role as a board member spanned bodies in government, medical research and sport – and included service to his beloved Western Bulldogs Football Club from 2001 to 2013, where he was made a life member.
Dr Pappas received the Order of Australia (AO) in 2016 for such wide-ranging and highly successful contributions, and for the strong commitment and dedication to all he does – which continues to be highly valued by Victoria University.