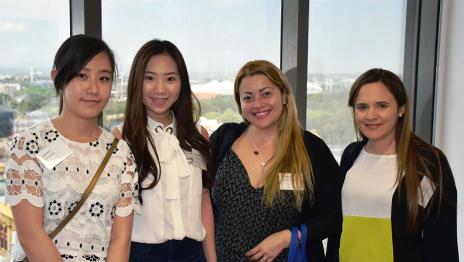 Leading Melbourne education agents converged on Victoria University's (VU) City Flinders Campus this Thursday (October 29) for an exclusive tour of Victoria University College – a specialist institution of VU that prepares students for academic and career success.
Thirty-seven delegates from agencies including IDP Education Australia, Latino Australia Education and Superstar Education were given the opportunity to meet VU College staff over lunch.
They learnt about the innovative programs on offer at VU College, including its pathway diplomas and English language courses.
The exclusive event featured a tour of the new VU College teaching spaces for 2016 – which are based in the heart of Melbourne at VU's City Flinders Campus – as well as an excursion to VU's Footscray Park Campus for a tour of the state-of the-art teaching and learning facilities. A guided walk-through of VU's new 508-bed student accommodation complex, UniLodge @ VU, was another highlight of the event. UniLodge @ VU is expected to open in early 2016.
Established earlier this year, VU College aims to prepare students for success in higher education by providing seamless pathways to the second year of degrees in business, IT and engineering.
Speaking at the event, VU College Executive Director Carolyn Chong said the courses at VU College are taught at VU campuses by VU staff, making students feel part of the University community from the outset.
"We are part of VU, which makes our pathways to university even more seamless," Ms Chong said.
"Our students study on VU campuses with university students so they really start to feel like a university student in their diploma," she said.
"Whether they stay at the City Flinders Campus or move onto another campus, they're already part of VU.
"For VU College to be launching in 2016 is highly significant. The opportunity for VU College is set against 100 years of VU providing students with the opportunity for success," Mr Berridge said.
Event delegate Amrita Chauhan from IDP Education said she enjoyed learning about VU College's pathway diplomas, particularly the Diploma of Engineering, which will commence in July 2016.
"Diplomas and degrees are predominantly our market and the engineering diploma at VU College looks quite promising for students who want to study engineering at university but have lower fees in their first year," Ms Chauhan said.
Representing MEA Consultancy, Joyce Chen said VU College's pathway diplomas are a great idea: "It will help a lot of students get into university if they reach the required level of English, which is a fantastic initiative."
From October 2019, UniLodge @ VU is known as UniLodge Victoria University.