Thursday 14 December 2017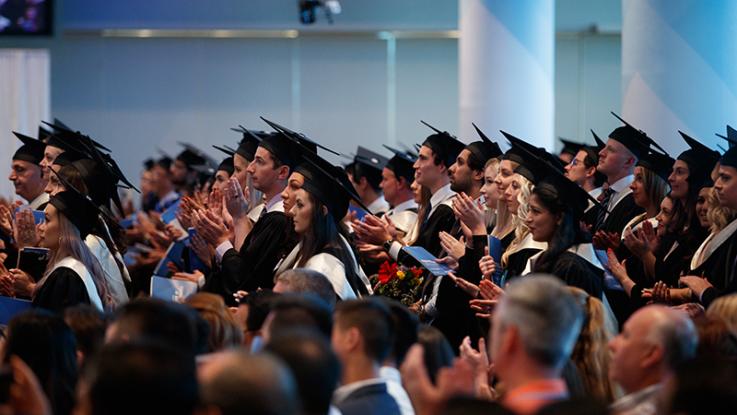 Victoria University discharged nearly 1900 newly qualified professionals at its December graduations, held at the prestigious Flemington Racecourse this week.
The new graduates (including a further 1800 receiving their awards in absentia) completed qualifications in all VU specialisations including business, arts, science, sport, law, health and vocational training.
They will join a community of 230,000 other VU alumni now making contributions across 130 countries around the world.
Speakers & distinguished guests
Former Victorian Premier Steve Bracks was admitted to the degree of Doctor of the University, Honoris Causa, on 12 December, in recognition of nearly 30 years of distinguished service to Victoria, in particular to VU's heartland of Melbourne's west.
Keynote speaker at the 13 December ceremony, Canada's Quest University President and Vice Chancellor Dr Katsushi Iwama, praised VU's bold move to be the first university in Australia to launch a block model of teaching, the First Year Model, starting next year.
Victoria University joins the hundreds of family and friends to express hearty congratulations to its recent graduates.
Jerusha Mather, 22, a Bachelor of Science (Biomedical Science) graduate lives with cerebral palsy and has overcome immense physical challenges to complete her degree.
More remarkably, Jerusha is determined to become a neurologist with a disability, and draw on her empathy and understanding to work with patients with a similar condition.
She recently joined a group called Doctors with Disabilities who are helping her support her dream.
Jerusha and her story appear at the end of this recent segment on The Project and in the Star Weekly community news.     
"It feels great to be able to get to this point and to be graduating. I'm glad my hard work over the past three years of study have paid off."
Sophia Van den Ham, 24, a Bachelor of Arts (International Community Development) graduate, completed several overseas internships as part of her studies.
"I am more than ready to start sharing my passion and enthusiasm for this profession that I acquired at Victoria University," she said.
Valedictorians
View the speeches of the valedictorians on our Facebook page.
Kevin Kit Liong Too Yok - Bachelor of Engineering/ (Electrical & Electronic Engineering)
Tim Dooley – Bachelor of Business
Francis Killackey – Bachelor of Laws
Holly Greyhart – Bachelor of Education
Zenabe Tewolde – Bachelor of Youth Work
Christopher Dennehy – Diploma of Accounting
Jack Feehan – Master of Health Science (Osteopathy)
Brodie Marshall – Bachelor of Nursing
High-achieving University Medallists
Kim Wheadon - Bachelor of Sport Science (Physical Education)
Kevin Kit Liong Too Yok - Bachelor of Engineering (Honours) (Electrical & Electronic Engineering)
Aaron Vandermey - Bachelor of Information Technology (Network & Systems Computing)
Estelle McConnell - Bachelor of Business
Scarlett Nordestgaard - Diploma of Business (Enterprise)
Amanda McDermott - Bachelor of Laws
Emilia Lewis - Master of Business (Marketing)
Rosnah Hashim - Bachelor of Education (Early Childhood/Primary)
John Achuil Dhieu - Advanced Diploma of Legal Practice
Lauren Cornall - Bachelor of Health Science (Paramedic)
All VU graduates are encouraged to keep in touch with the university and receive life-long benefits by joining VU's Alumni community.