Data visualises Footscray as a Smart City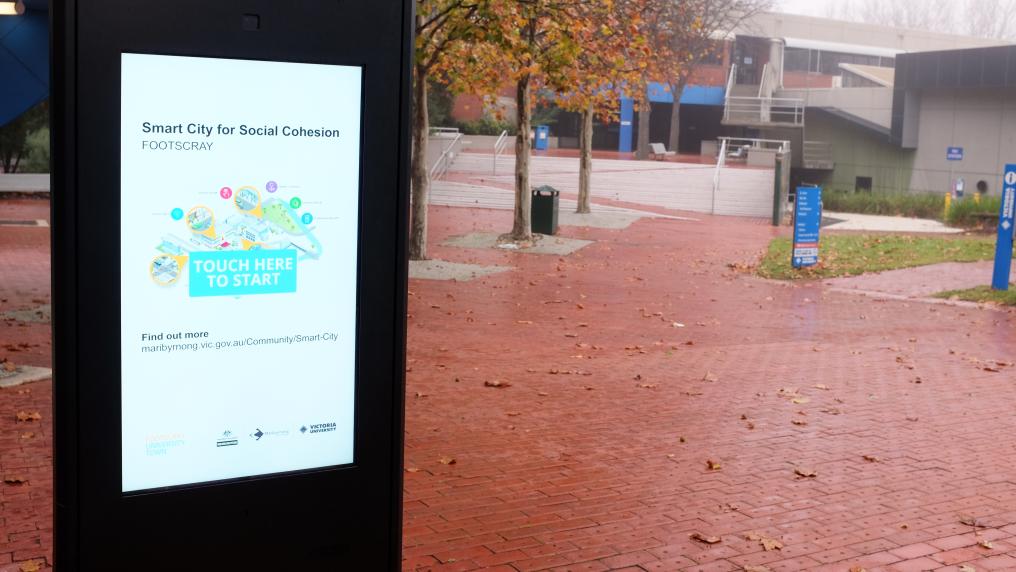 New, digitally savvy infrastructure has been installed throughout central Footscray as part of the 'Footscray Smart City for Social Cohesion'.
Monday 20 July 2020
New, digitally savvy infrastructure has been installed throughout central Footscray as part of the 'Footscray Smart City for Social Cohesion' (SC2) project funded by Maribyrnong City Council, the Australian Government and Victoria University (VU).
Launched earlier this year, smart technologies are bringing Footscray into the 21st century to make it a smarter, more digitally engaged city. 
This includes monitoring sensors, which measure air quality, count pedestrians, cyclists and vehicles, predict weather patterns and indicate parking availability, and a social cohesion website (SC2). In addition, three digital kiosks have been installed in Footscray and providing information to the community.
VU's College of Engineering and Science has developed the SC2 website to collect data from the monitoring sensors and present it in a way that's accessible and easy to interpret.
Using their expertise in information and digital technologies, the College has visualised the data and created interactive features with the aim to add even more functionality in years to come.
Dr Khandakar Ahmed, College of Engineering and Science project lead, was impressed by the teamwork and seamless collaboration involved: "it was a phenomenal opportunity to work closely with the local Council and industry partners to build a platform that has a direct benefit for the community."
Showing trends in traffic congestion, local environment conditions, historical data and more, the platform enables data-driven decision-making that supports ongoing improvements to Council's service delivery, useful information for local businesses and communities, and the opportunity for VU students to innovate.
"The students of Information Systems and Information Technology disciplines will have a tremendous opportunity to undertake data visualisation and decision driven data analysis. Ideas and projects developed from student research based off this data will be incorporated into the platform and made available to community," said Dr Ahmed.
The touch-screen digital kiosks, a first of their kind in Footscray, will ensure that residents and visitors have access to up-to-date information that guides people through Footscray and highlights the suburb's history and tourism attractions.  Situated in Nicholson Mall and VU's Nicholson and Footscray Park campuses, the kiosks have a quick link to the SC2 data. They also serve as an information point for wayfinding, current event listings, local history, and public transport timetables.
Footscray Smart City is a Footscray University Town initiative, a partnership between Council and VU which combines efforts of both organisations to create benefits for the University, local businesses and communities.
Contact us
Katrina Gubbins
Manager, Strategic Communications, Office of the Vice-Chancellor
[email protected]