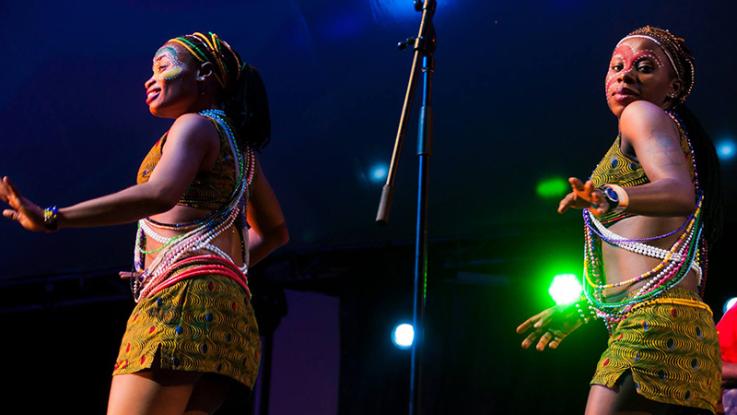 Footscray Community Arts Centre is hosting five dance workshops from September to November that staff and students will love.
Prices are super affordable, from $5 to $20. Each session is open to all ages and abilities!
Bollywood 
Bollywood dance is a vibrant and high-energy performance style, born in the largest film industry in the world. Learn routines to popular Indian cinema soundtracks.
The tutor is world-class dancer and choreographer Joshinder Chaggar from Studio J Dance.
Date: Wednesday 5 September 
Time: 7pm - 8pm 
Price: $15
Afrobeat 
Learn the rhythm and movement of African dance from Afrobeat royalty Yeni Kuti (aka YK Power), touring all the way from Nigeria.
The eldest daughter of legendary music artist Fela Anikulapo Kuti, Yeni will be sharing her unique wisdom and style of dance with the Footscray community this spring.
Do not this miss this once in a lifetime opportunity to learn from a world-renowned dancer and choreographer.
Date: Saturday 15 September 
Time: 1pm - 2pm
Price: $20
Dance Like No-one's Watching 
Ever wanted to dance with reckless abandon but feel too afraid? For the love of dance, join us at Let's Dance: Dance Like No One's Watching — a non-choreographed, free movement, glorified suburban doof set up.
Date: Thursday 20 September 
Time: 6.30pm - 8.30pm 
Price: $5
Hip Hop 
Keen to learn some new grooves before your next night out?. the class will be instructed by Hena Memishi, a choreographer with Melbourne west-based hip hop dance organisation L2R.
Date: Wednesday 17 October 
Time: 7pm - 8pm 
Price: $15
5Rhythm 
5Rhythms® is a catalytic movement practice. The moves take you through a wave of rhythms and styles, incorporating flow, staccato, chaos, lyrical, and stillness.
Date: Wednesday 14 November 
Time: 6.30pm - 8.30pm 
Price: $15
Bookings
Book online for one or all of the dance sessions.