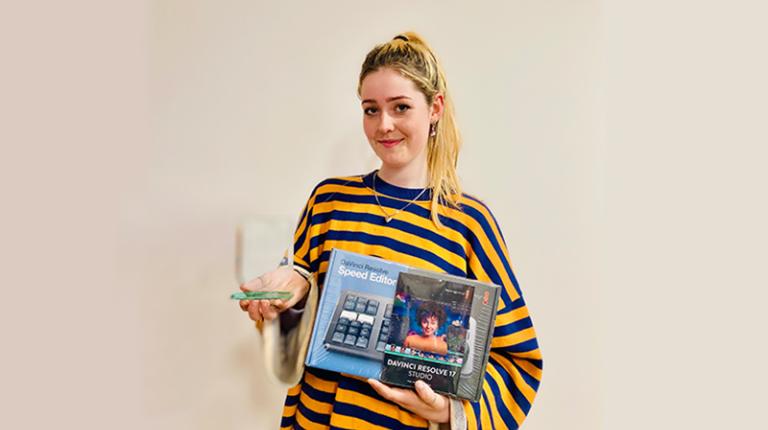 A stop-motion animation that reimagines The Boy Who Cried Wolf and was inspired by childhood memories has won the Rising Sun Youth Program category of the eighth annual Setting Sun Film Festival.
Ruby Taylor, a student from Geelong, created The Girl Who Cried Sick as part of her year 12 media project.
"Not only is the story a mostly true one but all of the set design is based upon my real childhood home. I also love nostalgic stories about childhood that really capture the idiosyncrasies of the way we think and act when we're young - so I wanted to create something that embraced that."
Melbourne's mid-2020 lockdown provided the backdrop for Ruby's creativity. A spare bedroom was made into a makeshift animation studio with drawn blinds and eight-hour working days during the school holidays. It took almost three months to complete the three-minute film, from the trial and error involved in making the puppets to finishing the final edit.
Even with all this work, she never expected anyone but her media class to see the short film.
"It feels strange but exciting to think that my film has gone on to have a broader audience, who have enjoyed and maybe related to it."
Unlike the film protagonist, who grows up to become a doctor, Ruby's dream is to pursue a career in filmmaking. Winning the Rising Sun category, and receiving a Black Magic DaVinci Resolve 17 software package from Victoria University, support these future plans immensely as Ruby continues her artistic journey.
"I currently use a dodgy editing app that crashes constantly and is really limited in what it can do, so receiving the Black Magic DaVinci Resolve 17 software package will hugely help me in making higher quality films and actualising my ideas. Feels like Christmas!!"
The Setting Sun Film Festival is an annual community festival unique to Melbourne's western suburbs that has developed an International reputation, attracting entries from across the globe. It was held online in June.
Victoria University is a proud sponsor of the Festival and the Rising Sun Youth Program, which is open to secondary school-aged students.
View the winning animation on YouTube.