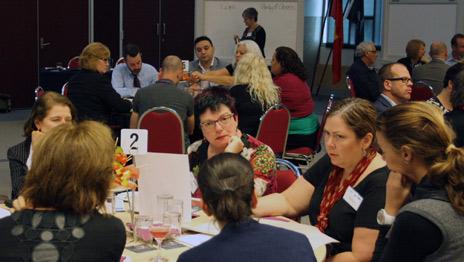 Victoria University (VU) will host an international two day Interprofessional Health, Education and Practice conference with an additional workshop day between 5 - 7 October, 2015.
Audience groups attending
The conference will be of interest to:
academics in health, education and other disciplines
health care practitioners
community service workforce
education and health policy developers
students.
Conference program
The conference will have internationally renowned Interprofessional experts delivering keynote addresses.
In addition there will be other key addresses, concurrent sessions and symposiums. The workshop day will offer several half day sessions.
The theme of this conference is 'Expose, Immerse and Experience' and provides a broad approach to the issues related to interprofessional collaboration, education, practice, learning and clinical supervision.
Social functions for delegates will be offered in addition to information about the best social and tourist destinations in and around the Melbourne region.
The full conference program will be available mid May 2015 following the completion of the early registrations process.
About the organiser
Interprofessional Education program (IPEP) at VU is to improve patient outcomes and prepare health graduates for interprofessional collaborative practice.
The mission of IPEP for students is to gain the benefits of learning in a collaborative manner with other health disciplines, therefore developing a shared language, learning experiences and understandings of the different scopes of practice.
Highlighted speakers
Professor Hugh Barr: Keynote speaker
Professor Hugh Barr is currently the president of the UK Centre for the Advancement of Interprofessional Education (CAIPE) and honorary fellow and emeritus professor of interprofessional education at the University of Westminster, and visiting chairs in that field at Kingston & St George's, University Campus Suffolk, the University of Greenwich and Curtin University (Western Australia).
Professor Scott Reeves: Keynote speaker
Professor Scott Reeves is a world-renowned British social scientist from University of California, San Francisco (UCSF), where he was the founding director of UCSF's Center for Innovation in Interprofessional Healthcare Education. Currently he is the Professor in Interprofessional Research, Faculty of Health, Social Care and Education, Kingston University and St George's, University of London.