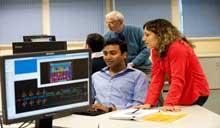 PhD scholarships are now available for collaborative research projects between Victoria University and other leading institutions.The five PhD scholarships of $26,000 a year exist for research into water, exercise science and education for under-represented communities.
The projects form part of the Collaborative Research Networks (CRN) program, which encourages higher education providers to develop their research capacity by collaborating with other institutions in areas of common interest.The CRN project brings Victoria University together with the University of Melbourne, Deakin University, Edith Cowan University and the CSIRO.
Projects
The first project in clinical exercise science, will investigate the role of exercise and bone factors in increasing responses to insulin by people with type 2 diabetes.
Another, in water management, will assess the economic value of alternative water supplies in an urban setting. The economics-focussed project will examine both direct and external costs of alternative water supplies. The focus may include coal seam gas water issues, desalinisation or public health and urban design.
Meanwhile, another project will investigate water perceptions, values and usage. This may include perceptions of water quality and safety from alternative sources of drinking water, religious and cultural understandings and use of water or gender differences in responses to water crises.
Finally two scholarships are available to look at education in low SES, diverse and under-represented communities.
Applications
To apply for a CRN scholarship, complete the CRN Scholarship Application and return it to [email protected] by Monday 14 May, 2012. Applicants should read the entry requirements for the Doctor of Philosophy (PhD) program before they apply. For further information on completing a PhD at VU, see Doctor of Philosophy (PhD), or visit Office for Postgraduate Research.