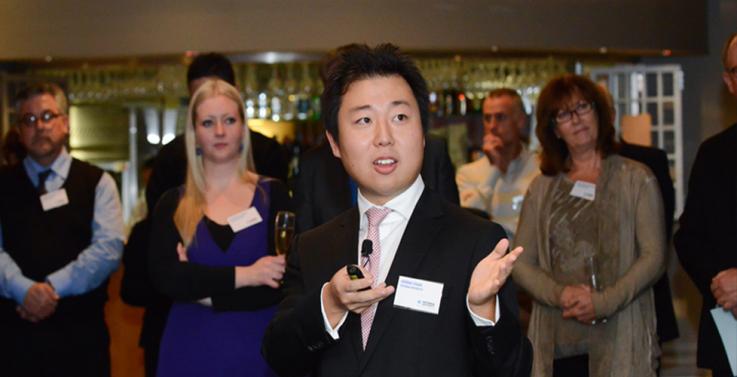 Victoria University has celebrated quality research and strong partnerships at its 2013 Research Showcase.
The May 7 event gave three leading researchers a chance to demonstrate how their work was making a difference in the world:
PhD research student Geordie Zhang wowed the audience with his presentation on the growth of worldwide mobile and internet traffic and research into the frontier of artificial intelligence for global communication networks.
Dr Itamar Levinger presented diabetes research based on a new way of looking at the human skeleton: not just as a structure for support and protection, but as a hormone-producing organ that can help regulate blood sugar levels.
Professor Michele Grossman discussed her major collaboration with Victoria Police on research for countering violent extremism in Australia and helping communities resist violence as a tool to settle grievances.
The event also marked the official launch of Research Highlights - a publication featuring 20 stories on some of the most interesting and high impact research from around Victoria University - by Pro Vice Chancellor (Research) Professor Warren Payne.
"This publication demonstrates the quality and impact of our research, but also of our partnerships, which we know are the key to relevant research and real-world outcomes," Professor Payne said.
Those present – including VU researchers, government, industry and community research partners and guests from University of Madrid and University of Malaya ­– were encouraged to build new partnerships to solve new problems, continuing the university's strong record on collaborative research.
Vice-Chancellor Professor Peter Dawkins applauded the hard work of university researchers for the growth in research funding, high level collaborations and research quality.
"In our most recent research performance report to the Commonwealth, VU reported a 50% increase in income from the most prestigious research awards in Australia," Professor Dawkins said. "Our collaborative partnerships with industry and government have also grown."
He added that last year VU invested more than half a million dollars in a collaborative research program to work with industry and the community to solve real world problems.
The Research Highlights publication is produced by the University's Office for Research. For copies of the publication or to discuss research opportunities contact the Director of the Office for Research, Donna Hannan.