Become the ultimate Footscray Foodie with the Footscray Foodie app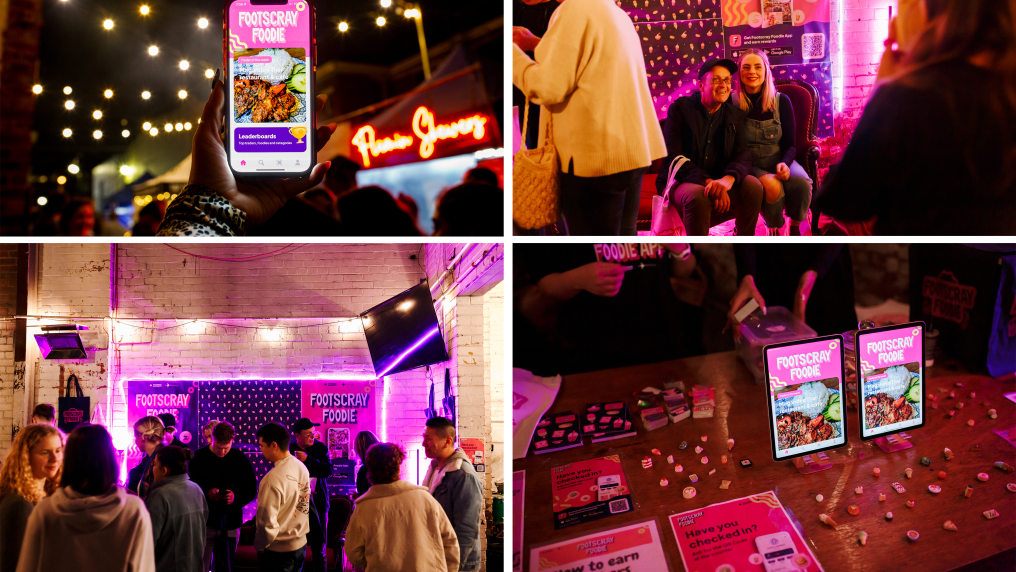 The Footscray Foodie app was launched at Harry & Larry's Twilight Street Market on Thursday 22 September at The Line in Footscray.
Monday 10 October 2022
The Footscray Foodie app was launched at Harry & Larry's Twilight Street Market on Thursday 22 September at The Line in Footscray.
Footscray Foodie was developed by Victoria University's Hive Lab as a social good project to boost the local economy post Covid-19. The Hive Lab is the team behind the award-winning VU App, which won seven awards for digital design, innovation and entrepreneurship since launching in 2018, including Australia's highest honour for design and innovation at the 2019 peak industry Good Design Awards.
Supported by VU in the Community and Maribyrnong City Council, the Footscray Foodie App encourages members of the community to check out the amazing bars, cafes and restaurants in and around Footscray. While earning points, rewards and badges, the gamified nature of the app ensures people are incentivised to not only try new places, but to return to businesses to build up points and become the ultimate Footscray Foodie.
The launch was a celebration of the dedicated Hive Lab team and demonstrated VU's commitment to supporting local communities. Attendees were able to download the free app, collect limited edition branded merchandise including tote bags and stickers, pick up collectable souvenirs and take photos at the glamourous Footscray Foodie lounge.
Victoria University and Maribyrnong City Council have been working in partnership to enrich the local community for almost 10 years, and the Footscray Foodie app is yet another initiative that has come about as a result of this strong partnership. Together, Victoria University and Maribyrnong City Council are committed to making Footscray a great, vibrant university town, celebrating all that Footscray has to offer – great food, a wonderfully rich culture and a strong community.
Download the free app on the App Store and follow @footscrayfoodie on Instagram and TikTok for regular updates.
Message from the Mayor, Councillor Anthony Tran 
We're incredibly fortunate to have so many delicious options when it comes to food in Melbourne's Inner West. Footscray Foodie will put our diverse eateries at your fingertips – I encourage you all to download the app today, explore our unique foodie culture and support some amazing local businesses!
Message from Professor Adam Shoemaker, Vice-Chancellor & President of Victoria University
Footscray is a food-lovers heaven, and this app makes it all deliciously visible. It is an absolute winner for everyone… and another great example of bringing the community together – this time over great food. We are so pleased that our partnership with Maribyrnong City Council has produced this wonderful app.