Join AVID Australia in Newcastle from 21-22nd July 2016 for the Winter Institute, our mid-year professional learning event. The Winter Institute will be hosted at the Hunter Stadium in Newcastle (NSW) with eight strands available to participants.
AVID Australia has seen significant growth since its introduction in Australia just over five years ago. We are now approaching 40 sites in four states and the Northern Territory. In response to the program's expansion, the Winter Institute offers AVID schools an additional, mid-year opportunity to induct their staff in AVID's fundamental professional learning strands.
Winter Institute is a two-day professional learning program for new and existing AVID educators. Teachers are immersed in a series of interactive workshops introducing them to the knowledge, skills and techniques that are helping over 1,250,000 AVID students succeed each year, in America - and now in Australia.
What is the difference between Summer Institute and Winter Institute?
Winter Institute Path Training differs from Summer Institute as it is a two-day training rather than three days, as there are no site team workshops. Site teams are expected to meet at their schools before and after Winter Institute to consolidate their learning and apply it to their schoolwide implementation.
Winter Institute offers eight of the fundamental AVID strands and does not have a general session, a keynote speaker or student speakers. Summer Institute is where you can go to see' what's new' in the AVID world as new strands will be offered only at Summer Institutes each year.
Event details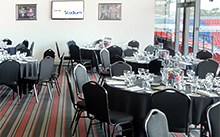 When: Thursday, 21 July 2016 at 8:00AM – Friday, 22 July 2016 at 4:00PM
Where: Hunter Stadium, 294 Turton Road, Broadmeadow NSW 2292, Newcastle
Combining spacious, modern facilities and an amazing view, Hunter Stadium is the perfect location for our first Winter Institute.
Registration
Cost per participant:

$ 595 (+ GST)

Registration will close on 4 July 2016
Registering for the AVID Australia Winter Institute 2016 is a simple process. You must register each member of your school who will be attending strands at the Winter Institute and submit your registrations to [email protected] no later than two weeks prior to the event (4 July 2016). For assistance with the registration process, please follow the steps below or download our detailed Registration Help Guide here.
To register, follow the steps below.
Open the registration form in Excel and fill out all the white fields (boxes). Enter the registration details for each member of your school attending the Institute. Select their 1st and 2nd strand preference and dietary requirements using the drop down menus in the spreadsheet. For more information regarding strands please see the 'Strands' section.

Save the registration form and send to

[email protected]

.

Once the registration form has been submitted, your finance

contact

will be issued with an invoice. Please read about our refund policy in the FAQs.

Each participant will also be sent login details to the AVID Australia Launches and Boosts eLearning program. All participants will be required to complete their Launches prior to the event.
Help?
Please note: Only licensed AVID schools and schools who have committed to start implementation in 2017 are eligible to attend Winter Institute. If you would like further information about how to become an AVID school please contact AVID Australia ([email protected]).
Strands
Strands require a minimum number of participants to run. Once a strand has been filled, it may not be possible to add further participants to that particular strand. Therefore, we ask that each participant nominate two strand preferences on their registration form. Every effort will be made to place participants in their first strand preference, however, room capacity will limit the number of strand participants. Our advice: register early to secure your preferred strand.
If you would like to change your strand please contact [email protected] or call +61 (03) 9919 7832.
The strands that will be offered at the 2016 Winter Institute:
Critical Reading
English: Exploring Texts with Strategic Reading and Writing
Foundations (Primary) Implementation
Maths 1
Science 1
Implementation Secondary Years
Student Success
Tutorology
For more information on the strands that will be on offer this year please download the Strand Guide PDF. For further advice, do not hesitate to contact AVID Australia.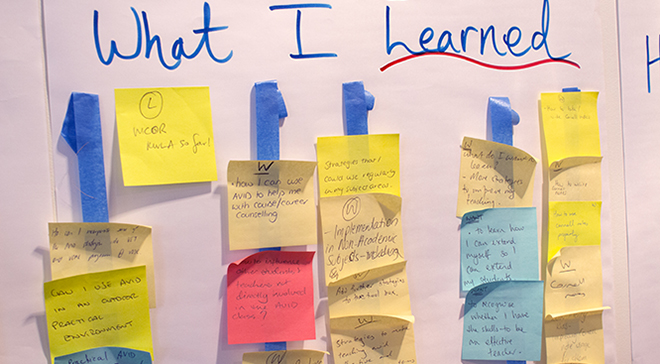 FAQs
Is my registration transferrable?
If you are no longer able to attend the event and wish to transfer your registration to another participant please contact [email protected] or call +61 (03) 9919 7832. Your school can send someone on your behalf but you will need to let us know.
Can I update my registration information?
If you need to update your registration information please contact [email protected] or call +61 (03) 9919 7832.
What is the refund policy?
A full refund will be issued if you need to cancel your registration 14 days before the event. A 50 %refund will be available if you cancel your registration up to 2 days prior to Winter Institute. We are unable to provide refunds for cancellations less than two days' prior to the event.
Please contact [email protected] or call +61 (03) 9919 7832 for further information.
Location and accommodation
The Hunter Stadium is located within a 12 minute drive from the heart of Newcastle's CBD and is close to public transport and numerous accommodation options.
The suggested accommodation options listed below are within a 7 minute drive from the Hunter Stadium, and will offer preferential rates to Winter Institute attendees from the 20th to the 22nd of July.
Travelodge Newcastle, 12 Steel St (Newcastle CBD) - 7 mins (by car)
$154 per night for single bed including breakfast for 1
$169 per night for twin room including breakfast for 2
Book online here or call Natalie - 02 4926 3777
Executive Inn, 10 Rugby Rd, New Lambton - 4 mins (by car), 15 mins (walking)
$170.00 per room, per night for 2 (Garden Rooms), 1 queen bed, 1 Sofa Bed and ensuite bathroom with dual head walk in Shower
Breakfast
- $22.00 per person - Full Buffet Breakfast
- $16.00 per person - Continental Buffet Breakfast
Parking, Daily Pass for Balance Health Club and Wifi is complimentary for all hotel guests.
To book, contact Rebecca 02 4935 1100 or

[email protected]
Best Western Blackbutt Inn, 80 Orchardtown Rd, New Lambton - 7 mins (by car)
$120 per night for single bed including breakfast for 1
$130 per night for twin room including breakfast for 2
To book, contact Hannah 02 4957 3454
$119 per night for a single bed (not including breakfast) - offer available until the end of May. After May, the rate offered will be $125 per night.

Guests can add breakfast upon checking-in at a cost of $17.00 a day or pay $20.00 each morning. Other breakfast options include a cold continental for $14.00 or a tea/coffee and toast option for $10.00.

To book, contact Simon Wells or Kelly Marks 02 4925-2266 or email

[email protected]

Transport
Newcastle Airport
There are a number of transport options between Newcastle Airport and the CBD, including:
See the Newcastle Airport website for more information.
Hunter Stadium
Buses:
There are a number of buses operating between the Newcastle CBD and the Hunter Stadium including the 317, 363, 231 and 322. Please allow at least 30 minutes travel time.
The nearest bus stop to Hunter Stadium is at Young and Turton Road, New Lambton. The following buses stop within 1km of the stadium:
Down Turton Road: 231 and 111
Down Lambton Road: 363, 230, 222 and 317
Other buses: 225, 226 and 322
For more information on bus travel and routes, please visit the Newcastle Bus Info website. A map of the Newcastle bus network is available here.
Taxi:
The Hunter Stadium taxi stand is located at Young Road, Broadmeadow. Taxis can be accessed after the event by following the signs to Young Road. For further information please contact Newcastle Taxis.
Contact
For further information regarding the Winter Institute please contact the AVID Australia events team at ([email protected])or call +61 (03) 9919 7832.
If you would like further information about how to become an AVID school please contact AVID Australia ([email protected]) or +61 (03) 9919 5934.