Australia's first on-campus autism centre for adults opens at Victoria University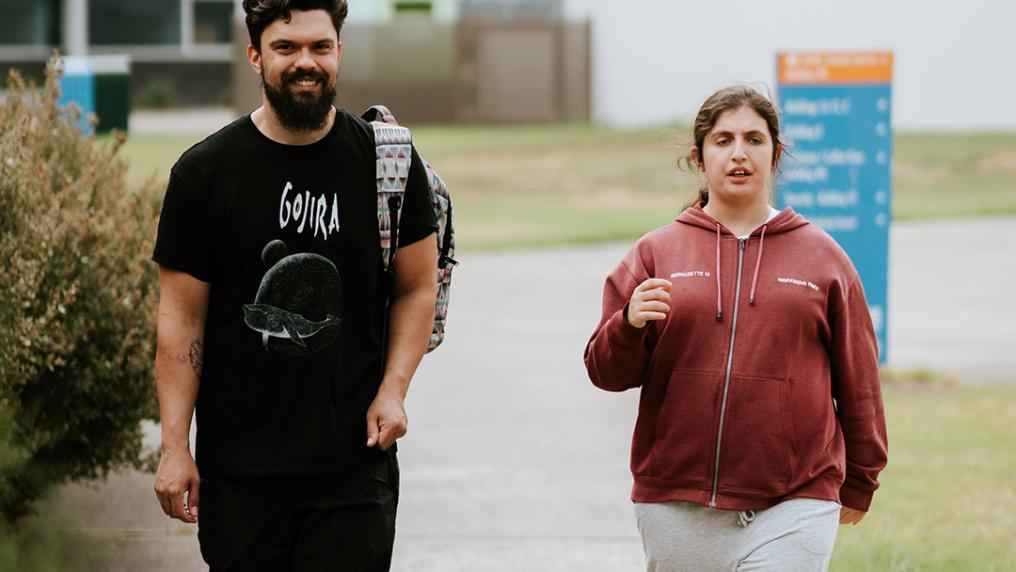 A collaboration between Autism Spectrum Australia (Aspect) and Victoria University (VU) pioneers a new model for student training and community support.
Thursday 8 June 2023
Australia's first on-campus community centre for Autistic adults has officially opened, following a collaboration between Autism Spectrum Australia (Aspect) and Victoria University (VU). The alliance pioneers a new model at VU's St Albans Campus, providing positive outcomes for both adult participants and students.
The new centre offers much-needed services for autistic adults in the western Melbourne locale of Brimbank and facilitates opportunities for participants to enrol in Victoria University Polytechnic courses and gain recognised qualifications. Participants can also acquire valuable job and independent living skills by engaging in programs and activities across the University's state-of-the-art facilities.
Adults diagnosed as autistic represent approximately one-third of the 3,800 people on the autism spectrum in the Brimbank local government area, according to the NDIS.
The innovative model will also provide a unique opportunity for VU students who are training in areas such as speech pathology, social work and community services to participate in placements, internships and potentially, formal employment with Aspect.
Jacqui Borland, CEO of Aspect, said the number of adults diagnosed as autistic is increasing, leading to an elevated demand for support services and subsequently, a more substantial and skilled community services workforce.
"Aspect's partnership with Victoria University is ground-breaking because it achieves many critical outcomes for autistic adults, while investing in the future of our disability services workforce," said Ms Borland.
"We are delighted to offer the many autistic adults in western-Melbourne quality therapy and support services, as well as provide a place to connect and thrive.
"Furthermore, the skills shortage in social services is extensive with a current shortfall of more than 128,000 nationwide and approximately 1500-2000 staff required locally across specific therapies and support services. By having a dedicated autism-specific hub on the University campus, Aspect can provide students looking to embark on a career in therapy or the disability and community services with on-the-job training and experience, ideally leading to employment with us or in the broader sector."
Victoria University's Vice-Chancellor, Professor Adam Shoemaker, said the alliance with Aspect dramatically increases accessible learning experiences and employment opportunities for both students and community members.
"The collaboration between Aspect and Victoria is an exciting demonstration of our flipped campus approach, which will see us actively provide Aspect's adult participants with the chance to gain VU qualifications and access to programs at the St Albans Campus," said Professor Shoemaker.
"For VU students, partnering with Australia's largest provider of specialised autistic services means they will have the best possible training and hands-on experience, which is as timely as it is industry-relevant.
"We also warmly welcome the expertise of Aspect staff to ensure VU classrooms and communal spaces are inclusive and provide autism-friendly environments. This is a truly progressive partnership, and one which gives all of us immense pride."
Aspect participants have begun engaging in programs and activities across various areas of the St Albans Campus including the aquatic centre, cooking facilities, presentation spaces, sporting grounds and general campus amenities, such as the library and cafe.
Tom Broadley, who has lived experience and is now a Liaison Officer at the new St Albans centre, said he is proud and excited to be a part of this new venture. "I have personally experienced the life-changing impact of therapy and support services and am grateful to have a chance to help other adults feel welcomed and supported," said Mr Broadley.
"I enjoy getting to know each participant as it allows me to understand what they are going through and suggest activities or programs they might really like. My work with Aspect is beyond rewarding and I love being able to relate my own stories, so our participants feel heard and understood."
Aspect will be commencing its first round of placements in mid-June, with four students studying Cert IV, Disability and Community Services and Diploma, Community Services, joining the new centre, which caters for more than 25 Autistic adults and approximately 18 staff.
In addition, VU researchers in health, wellness and sport will have an opportunity to conduct collaborative research with Aspect's Research Centre for Autism Practice (ARCAP) on evidence-based solutions that address the challenges of people on the autism spectrum and their families.