Australia's largest vertical campus opens in central Melbourne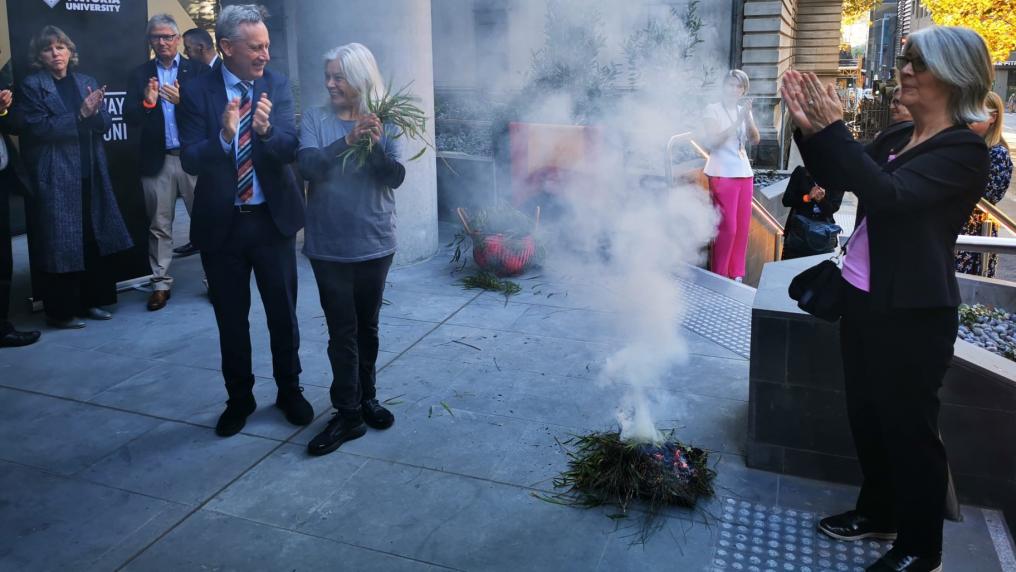 Melbourne's latest educational landmark consolidates VU's Business and Law schools in one location
Wednesday 27 April 2022
Victoria University's (VU) most ambitious campus opened yesterday to thousands of students in the heart of Melbourne's legal and commercial district. After five years of construction, the 32-level VU City Tower ushers in an exciting new era for the University.
Melbourne's latest educational landmark consolidates VU's business and law schools in one location and offers both higher education and vocational learning, from pathway programs through to PhDs.
Showcasing VU's unique approach to dual-sector learning, a single entrance opens the doors to opportunities across a range of emerging professional areas.
VU Vice-Chancellor Professor Adam Shoemaker said the students would thrive at the new campus, as Melbourne reawakens from the pandemic.
"The opening of VU City Tower marks a significant milestone for the University and the city of Melbourne as it emerges from the impacts of COVID-19 restrictions," Professor Shoemaker said.
"Our students, staff, partners and visitors will play an important part in breathing new life into the city with the energy and positivity only thousands of new students can bring."
Purpose-built with student use central to its design, the VU City Tower's small-group and interactive-learning environments are the epitome of the award-winning VU Block Model that VU has made its own.
"No two teaching rooms are the same configuration. There are no lecture theatres. Students learn in small, dynamic groups of 30 in the equivalent of a postgraduate masterclass, but taught at the undergraduate level. There is nothing and nowhere else like it," Professor Shoemaker said.
In a ground-breaking move, the same building will also house industry and strategic partners who will transform student experiences by offering placements, clinical experiences, immersive opportunities and industry-focused learning.
This already includes:
a 'sky high' salon where students gain practical experience in physical and beauty therapy services open to the public
the 'Boardroom of the Future' with CISCO next-generation meeting-room technology that brings people together both virtually and physically
Australia's first SAP Academy, a globally recognised program that will help VU graduates obtain the right skills for future-focused IT jobs.
"VU is a partnering institution. By collaborating with world-leading organisations like SAP, we enrich our educational offerings and provide greater career and professional opportunities for students," said Professor Adam Shoemaker.