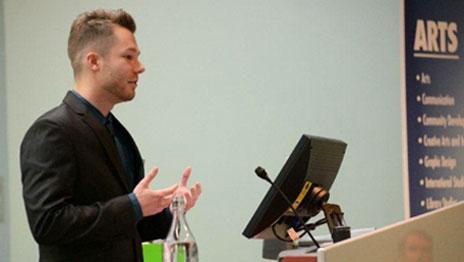 Congratulations to the College of Arts students who were named the Most Outstanding Students for 2013 at a recent awards' evening.
Vocational education and training (TAFE) awards
Screen and Media student – Hayden DeSailly
Library student – Virginia Delaney
Sound Production student – Drew Campbell
Liberal Arts student – Erin O'Neill
Music student – Elijah Maddern
Disability student – Cassandra McPhelim
Community Services student – Malek Madol
Graphic Design student – Sophie Turner
Visual Arts student (and recipient of the Fiona Myer Award) – Sarah Hayes
Professional Writing and Editing student – Melody Soan
Higher Education awards
Bachelor of Communication student – Aaron Portelli
Mature-age Professional Writing student – Matthew Magro
Graduate Certificate in Professional English Communication student – Ha Nguyen
History student – Laura Rovetto
Fourth Year Psychology student – Daniella Zileski
Postgraduate Community Psychology student – Linda Chiodo
Non-Vietnamese First Year Vietnamese student – Rhiannon Canway
Literary Studies student – Sophie Williams
International Fieldwork project – Anmoy Chakma
Bachelor of Creative Arts Industries students – Alexandra Thornton and Bruce Pagunsan
First Year Bachelor of Creative Arts Industries student – Jessica O'Sullivan
Second Year Bachelor of Creative Arts Industries student – Stephen Moore
Final year Politics student from the Bachelor of International Studies – Eddy Webster
Bachelor of Creative Arts (Honours) student – Catherine Meeson
Postgraduate Coursework student – Erica Bradford
Postgraduate Research Student – Karen Berger
Final Year Social Work student contribution – Jacinta Hegarty
Highest Achieving First-Year Bachelor of Arts student – Samuel Hutton
Dean's Scholar Award – Highest Achieving student in the College of Arts – Adam Bromage
Jesse Twomey, a Bachelor of Arts (International Studies) graduate and now the southeast Asia desk officer for the Department of Foreign Affairs and Trade (DFAT) in Canberra was guest speaker. He spoke of the many opportunities he undertook as an undergraduate, including a semester of study abroad in Beijing, and a Victorian Parliamentary Internship. 
The 2013 Dean's Scholar recipient was Adam Bromage, who is currently enrolled in his Honours year in the Bachelor of Science (Psychology). Adam has received several other VU awards including the Executive Dean's High Achievement Scholarship In 2011, and Most Outstanding First Year Arts' Undergraduate Student in 2012. Adam also received a national award as an outstanding peer leader from the National Centre for Peer-Assisted Study Sessions (PASS) for his work as a peer mentor.