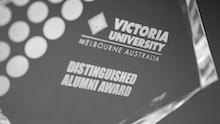 Victoria University is proud to announce the finalists for the 2017 Alumni Awards.
The Alumni Awards celebrate and formally recognise the achievements and contribution our alumni have made to our university, to the West of Melbourne, to our nation and across the global stage.
The Victoria University of today is built on the successes of our alumni, and we are rightly proud of their legacy.
The recipients in each category will be announced at the 2017 VU Alumni Awards Presentation Event on Tuesday, 3 October 2017.
Distinguished Alumni Award finalists
Andrew Gaze AM
Head Coach, Sydney Kings
Bachelor of Applied Science (Physical Education)
Dr June Smith
Lead Ombudsman (Investment and Advice), Financial Ombudsman Service Australia
Doctor of Philosophy
Outstanding Leadership Alumni Award finalists
David Jacka OAM
Director, AQA Victoria
Graduate Diploma of Project Management
Dee White
Author and Editor
Diploma of Professional Writing and Editing
Jacqui Louder
Sports and Exercise Psychologist, Olympic Park Sports Medicine
Master of Applied Psychology (Sport Psychology)
Tony Walker ASM
Chief Executive Officer, Ambulance Victoria
Master of Education
Outstanding Service Alumni Award finalists
Aynur Simsirel
Executive Principal, Ilim College
Bachelor of Education
Dr Jade Scott
Owner/Director/Osteopath, Western Region Health and Osteopathy
Bachelor of Health Science (Osteopathy), Master of Health Science (Osteopathy)
Niki Howells Schramm
Workplace Relations Manager, The Australian Medical Association of Victoria
Bachelor of Laws
Vedran Drakulic OAM
Chief Executive Officer, Gandel Philantrophy
Master of Public Advocacy and Action
Young Achiever Alumni Award finalists
Casey Price
Event Operations Manager, Etihad Stadium
Bachelor of Arts
Kot Monoah
Personal Injury Lawyer, Slater and Gordon
Bachelor of Laws
Mehdi Jaghuri
Manager, Connections Arts Space
Diploma of Visual Arts
Lauren Woodman
Chief Executive Officer, Seven Sisters Festival
Bachelor of Health Science (Osteopathy), Master of Health Science (Osteopathy)
Robyn Gardner
Senior Conference Manager, GEMS Event Management Australia
Bachelor of Business (Hospitality/Event Management)
Outstanding Student - Future Alumni Award finalists
Amy Marks
Bachelor of Screen Media
Kyriacos (Keary) Karaolides
Bachelor of Business
Wanamini Waehama
Doctor of Business Administration
We congratulate all nominees on being recognised by their peers for their accomplishments and success.