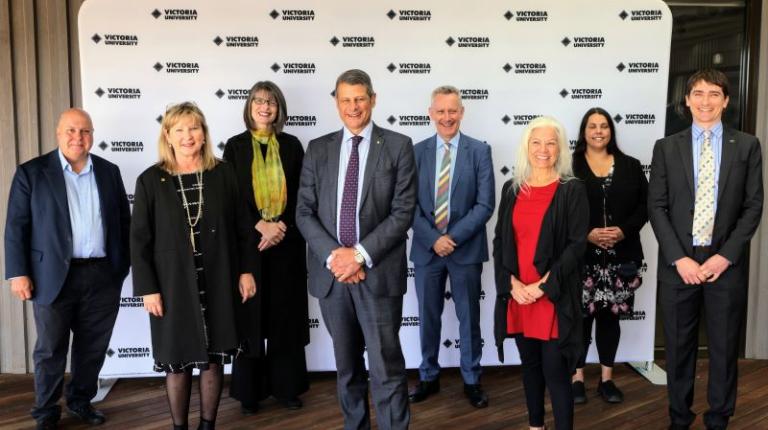 A new innovation hub at Victoria University's (VU's) Werribee Campus will develop leading-edge solutions to sustainability challenges associated with waste, packaging, construction and water management.
The Sustainable Futures Innovation Hub, supported by the Victorian Higher Education State Investment Fund, is for universities to work with their communities as they recover from the impacts of COVID-19.
Victorian Minister for Higher Education, The Honourable Gayle Tierney, announced today that the hub will be awarded $4.9 million to advance waste reduction, sustainable water resources and the circular economy through research focused on responsible consumption and production practices.
The hub is part of a broader University-wide initiative, VU RISE (Recover, Innovate, Sustain, Evolve). VU RISE is the University's research response to assist with COVID recovery, aimed at improving the west of Melbourne's long-term productivity and workforce needs, and supporting economic and social development.
VU Chancellor, The Honourable Steve Bracks AC said: "We are grateful for the support of the Victorian Higher Education State Investment Fund, which will enable us to work with the communities in VU's heartland – the west of Melbourne.
VU has played a critical role in Melbourne's west for more than 100 years and the new Sustainable Futures Innovation Hub will enable us to work closely with our partners on sustainable local recovery from the impacts of COVID-19."
Vice-Chancellor Professor Adam Shoemaker said the hub reinforces VU's recent whole-of-University commitment to Planetary Health and the United Nation's Sustainable Development Goals.
"Focused on sustainable, local recovery, VU RISE recognises that the west of Melbourne has been significantly impacted by COVID-19. This is a unique and exciting opportunity to work with our partners in the west and beyond to create next-generation innovation. The hub is an exemplar of an engaged approach to realise enduring solutions to complex problems." he said.
Four priority areas
The hub will draw on VU research and expertise in partnership with government, community and industry in four priority areas:
Next generation water management in the Werribee River catchment: Creating relationships with Traditional Owner Groups of the west of Melbourne who have boundaries along the Werribee River, as well as working with communities and industry to inform water management decisions, stormwater harvesting treatment process design, and development of strategies for water loss reduction from water supply pipes.
Smart construction tools: The development of prototype smart technology tools which improve quality control and inspection procedures in construction, while transforming education and training on health and safety risks in construction to minimise workplace accidents and injuries.
Innovative construction using recycled materials: Development of contemporary solutions that use recycled glass, plastic and demolition waste for pavements and house foundations to improve the engineering properties and performance on reactive soils in Melbourne's west.
Sustainable packaging solutions: Creation of new bio-packaging from agricultural waste materials and by-products and practical strategies to reduce supply-chain hazards that drive protective packaging demand.