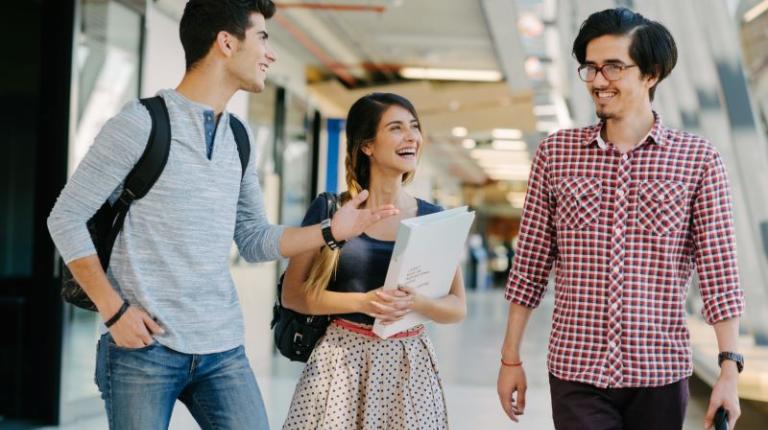 Victoria University (VU) has scored top in the state for undergraduate learner engagement in the 2021 Good Universities Guide released today, reflecting the continuing and growing success of its Australian-first block model of study.
The annual ratings, which measure university performance based on student responses and other data, reveal VU is number one in Victoria and fourth in Australia for learner engagement among its undergraduate students. This category measures the proportion of students who report they are engaged with their studies and institution, have a sense of belonging, and interact with other students inside and outside the classroom.
Vice-Chancellor Professor Peter Dawkins said the strong learner engagement results are evidence of the success of the block model, which features a student-centred approach and focuses on one subject at a time with a specialist teacher in small class groups.
"We know that our block model leads to stronger student engagement and better student outcomes. I am delighted that our reimagined and transformative model of teaching and learning has been externally validated."
VU also received Five-Star Ratings for being in the top 20% of Australian universities for: social equity (proportion of domestic students from disadvantaged backgrounds); and first-generation (proportion of domestic students who are first in their families to go to university).
VU also showed excellent results in individual subject areas:
Tourism, Hospitality, Personal Services, Sport & Recreation postgraduate subjects were top nationally for both skills development and teaching quality, and second for overall educational experience, student support, and learning resources;
Creative Arts undergraduate subjects rated highest nationally for overall education experience and learner engagement, and second highest for skills development. They also rated first in Victoria for skills development;
Humanities, Culture and Society postgraduate subjects rated top nationally for learning resources, and top in Victoria for skills development;
Agriculture and Environmental Studies undergraduate subjects rated second in Australia and first in Victoria for learner engagement.
VU also entered the prestigious Academic Ranking of World Universities (ARWU) for the first time this week, a list of the world's top 1000 universities.