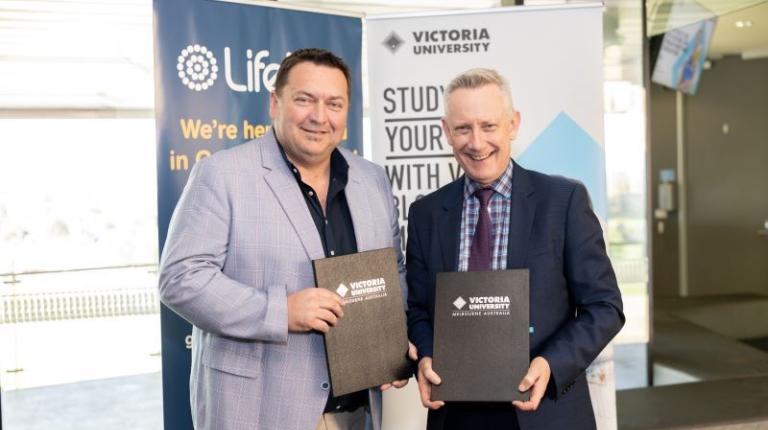 Victoria University (VU) and Lifeline Western Melbourne signed a five-year agreement today aimed at boosting help for Victorians requiring crisis support and suicide prevention services.
The agreement, signed on World Mental Health Day, will see Lifeline establish its first crisis support centre in western Melbourne, and the first to operate on a Victorian university campus.
The centre, to open in November at Victoria University's St Albans Campus, will be serviced by about 20 volunteers and staff. It will offer real-world opportunities for VU students in youth work, psychology, counselling, community services and social work – at both the higher education and TAFE levels, as well as local community members – to train as crisis support workers.
VU researchers will also begin impactful collaborations with the Lifeline Research Foundation.
With a 35 per cent growth in demand for Lifeline services in Melbourne's west and north since COVID began, the partnership will help better support the region's residents facing emotional distress.
Recent Australian Bureau of Statistics data shows one-in-six Australians aged 16-85 have experienced suicidal thoughts. Nine Australians die every day by suicide and more than 65,000 Australians make a suicide attempt each year. Suicide is the leading cause of death for Australians between the ages of 15 and 44.
Newest partner in VU's 'flipped campus' approach
VU Vice-Chancellor Professor Adam Shoemaker said the alliance is core to VU's mission to redefine the traditional university campus, through its 'flipped campus' strategy that aims to bring at least one strong, industry aligned partner to every VU campus by 2028.
Lifeline is the third organisation VU has partnered with as part of this strategy throughout 2022. In recent months, the University has announced similar alliances with Aspect (Australia's largest provider of autism services and school programs) and Orygen (Australia's youth mental health centre of excellence) providing VU staff and students with on-campus skills and experience to benefit their careers.
"We do not simply prepare our students and researchers to work in their chosen profession after graduation. With our flipped campus model, we integrate students into their chosen profession from the very first moment that they set foot on our campus," Professor Shoemaker said.
We partner with organisations whose principles reflect ours, and that of our students and staff, so we are honoured to be adding value to the critically important work of Lifeline. There could be no more important time to do it.
Lifeline Western Melbourne general manager Jason Doherty welcomes the opportunity to partner with VU. He said establishing a centre in western Melbourne will help Lifeline to answer more calls from the growing number of people needing someone to talk to in their time of need.
"At Lifeline we work in the community for community, so it is great to be part of the VU community," Mr Doherty said.
"It is important that our 13 11 14 crisis supporters come from all walks of life – including students and young people.
"Crisis supporters don't need to have experience in counselling. We provide extensive training and support to help empathetic people to be there for others – to listen and offer hope."
To express interest in Lifeline's Crisis Supporter Training contact Lifeline on [email protected].
If this story causes issues for you contact Lifeline on 13 11 14.