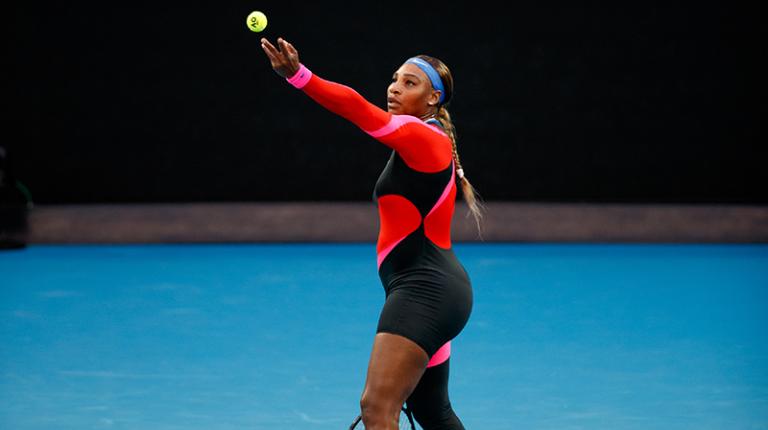 For the first time, Australian Open fans will witness a history making moment each time a player sets a new personal best or breaks an AO tournament record thanks to a statistical innovation from the Game Insight Group (GIG).
Established in 2018 by Tennis Australia and Victoria University, GIG is made up of a team of experts revolutionising tennis through science and data analysis, and they continue to introduce new ways to dissect the game through the AO broadcast.
"One of our aims with GIG is to help the fan make a deeper connection with their heroes on the screen and this new broadcast innovation does just that. We've witnessed some epic matches and shots this Australian Open but we don't always celebrate those moments for how remarkable or unique they are. Players are constantly trying to get better or add a few percent to their games but sometimes we miss it", said Dr Machar Reid, Tennis Australia Head of Innovation.
Serena Williams has one of the best serves in the world but has she returned to her 20th AO hitting it bigger than ever before? According to the tracking data analysed, the player smashed not just her record but the tournament record with a massive 203km/h serve in the third set of her fourth round match.
World No.1 Novak Djokovic has also made his mark this AO setting personal records for fastest serve and forehand.
The GIG team has analysed years' worth of shot and tracking data to set the record straight on who is the AO's top player across the following categories:
Shot level AO Record

Men's

Women's

Fastest Serve

COPIL

242.7

S.WILLIAMS

203.0

Fastest Return

JARRY

179.3

MUGURUZA

167.7

Fastest Forehand

KARLOVIC

188.0

STEPHENS

159.3

Fastest Backhand

SHAPOVALOV

163.2

VANDEWEGHE

152.2

Match level AO Record

Longest Distance (km)

SANDGREN

6.83

DAVIS

5.29

Highest Hitting Load

KHACHANOV

1,573

DAVIS

1,056

Most Sprints

SANDGREN

234

DAVIS

122

Most High Intensity Changes

DE MINAUR

314

DAVIS

145

Highest Total Work (KJ)

YMER

8,734

DAVIS

4,389

Tournament level AO Record

 

 

Longest Distance (km)

NADAL

22.54

HALEP

21.31

Highest Hitting Load

THIEM

6,291

HALEP

4,034

Most Sprints

THIEM

654

HALEP

442

Most High Intensity Changes

DIMITROV

826

HALEP

437

Highest Total Work (KJ)

THIEM

26,581

HALEP

16,712
"The Game Insight Group continues to deliver new and innovative tennis insights for not only coaches and players, but also broadcasters, media and fans. We're determined to continue to lead the industry in this pursuit. This new initiative adds another layer of detail to the comprehensive existing coverage of the Australian Open, allowing for fans to be seamlessly alerted to the events biggest highlights and key records", said Sam Robertson, Professor Sports Analytics at VU's Institute for Health and Sport.