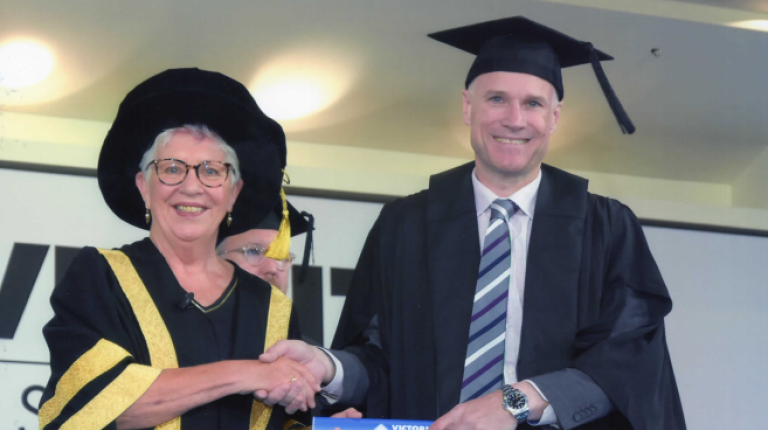 From airlines and media empires to private accounts, organisations large and small continue to be vulnerable to cyber attacks, and with the arrival of COVID-19, the number of data breaches continues to increase in frequency and severity.
Aimed at candidates looking to build prior skills in information technology (IT), Victoria University's Graduate Certificate in Cyber Security covers the essential areas of cyber security, from proactive cyber threat detection and risk management to cyber law and regulations.
Lecturers are experts in their fields, with a strong research record in cyber security; and, throughout the course, guest lecturers offer unique insights into their own thriving careers and share information about the latest developments in the industry.
Course chair and lecturer Dr Ayad Turky says there continues to be a global shortage of cyber-security professionals:
"We know employers are looking for staff with strong skills which not only cover the fundamentals of cyber security, but security technologies such as digital signature, and intrusion detection."
For 2019 graduate and University Medal recipient for the College of Engineering & Science Mr Neil Peavey, the graduate certificate complemented his career as a strategic account director in the banking and finance sector.
"I wasn't your typical student. I was an established professional seeking to deep-dive into an emerging field. As an account director in banking and finance, I had a professional curiosity about cyber security – it's a critical area of importance to my clients that I wanted to know more about. What I enjoyed most about the course was the hands-on aspect – it wasn't all theory. I also got a lot out of the keynote speakers who provided fantastic insights into what it's like to work in the field."
Victoria University's Graduate Certificate in Cyber Security is part of the University's range of postgraduate short courses that are heavily subsidised by the federal government (in 2021), signaling that the profession's growing importance and booming demand is recognised at the highest levels.
Dr Turky adds: "So far we've had a number of students successfully complete studies in the field of cyber security and secure roles in the industry. As organisations return to a new way of working, employers will be looking for a workforce in the private and public sector who are ready to apply their skills in a thriving and exciting industry."