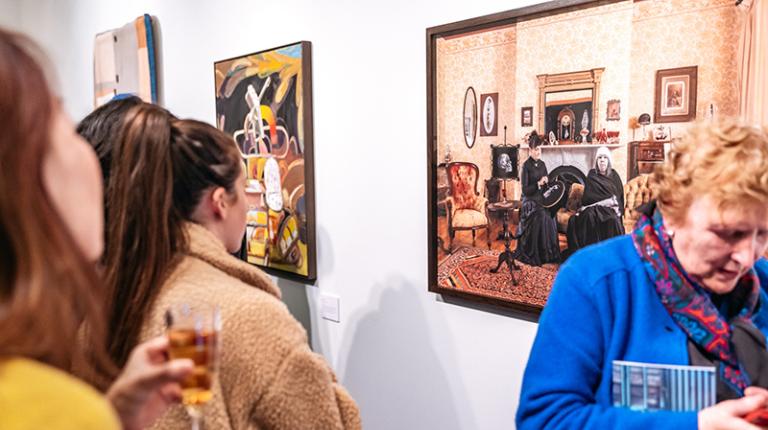 The biennial Footscray Art Prize is returning in 2021 with entries opening on Monday 5 October. Artists from across Australia are invited to enter, with the opportunity to share in $28,000 worth of prizes across multiple categories.
Established in 2016, the Footscray Art Prize has received over 800 entries for two consecutive years, firmly placing the Prize on the Australian art prize calendar. In 2021, it will provide a welcome injection of funds into the creative sector and reinvigorate the thriving cultural hub of Footscray in Melbourne's west in what is hoped will be a post-COVID world.
Prize list expanded in 2021
The coveted main prize is valued at $10,000, while the Street Art Prize is valued at $5000 and pays tribute to Footscray's thriving street art scene.
Two new sub-categories have also been added:
$10,000 acquisition prize for local artists that will see the winning work added to Maribyrnong City Council's Art and Heritage Collection
residency at Footscray Community Arts Centre for emerging practitioners.
The popular Young Artists Prize continues, featuring two categories each valued at $500, encouraging students in Melbourne's west to explore their creativity.
"School students have had a difficult year and we hope that the Young Artists category provides an enticing opportunity for them to get creative and have their efforts displayed at our community hub, VU at MetroWest. This is my final year as Vice-Chancellor at VU, and it has been an honour to observe the next generation of artists through this prize and see it develop into a recognised Australian art prize."
– Professor Peter Dawkins, Vice-Chancellor and President of Victoria University
Artworks to be awarded & exhibited
A panel of esteemed judges will shortlist the artworks and select winners in 2021:
Myles Russell-Cook, Curator of Indigenous Art at the National Gallery of Victoria
Vikki McInnes, Curator, writer, gallerist and Research Development Fellow
Kirsty Grant, former Director and CEO of Heide Museum of Modern Art
Dawn Tan and Rosie Kalina will judge the Young Artists Categories.
Shortlisted works artworks will be on display in an exhibition held at Footscray Community Arts Centre (Main and Street Art Prize), and VU at MetroWest (Young Artists) in May and June 2021 with winners announced at the exhibition opening.
"The Footscray Art Prize attracts entries from artists all over the country who work in diverse ways, providing a snapshot of current creative practice and the ideas and images that speak to contemporary life and experience. 2020 has been an extraordinary year and presented us all with many challenges - I'm looking forward to seeing what emerges in the prize in 2021."
– Kirsty Grant
The biennial prize is a unique collaboration between Victoria University, Maribyrnong City Council, Footscray Community Arts Centre and the Rotary Club of Footscray, who share a commitment to demonstrating and promoting creativity, cultural achievements and the arts.
Entries open to all Australian residents on Monday 5 October 2020 and can be submitted online, with no restrictions on visual art media. Entries will close at midday on Monday 8 February 2021.
For more information, visit www.footscrayartprize.com.