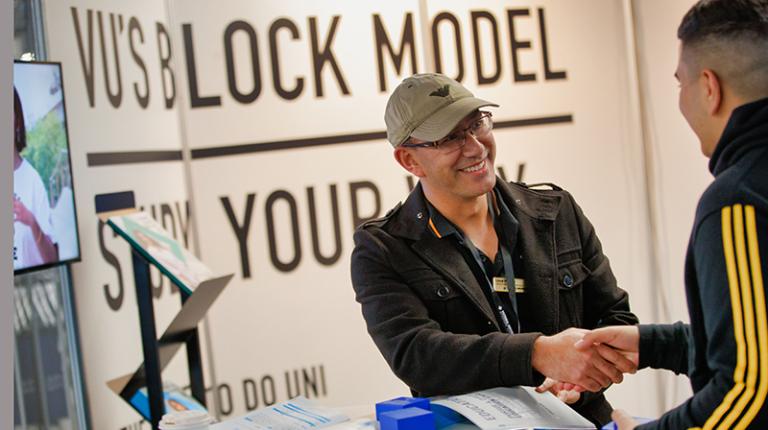 Graduations are always special, but for Victoria University, this year there is an extra reason to celebrate.
2020 marks the graduation of the first cohort of Victoria University students who have experienced the Australian first Block Model, launched in 2018.
The revolutionary Block Model is 'The New Way To Do Uni' that continues to redefine tertiary education. Students aren't scattered around a lecture theatre dozing in front of PowerPoint presentations, or juggling multiple subjects and assignments; instead, they study one subject at a time, in small classes, over a four-week block.
Smaller class sizes create an environment that fosters collaboration between classmates and encourages a safe space for critical thinking and discussion. Assessments are delivered promptly to ensure students stay on track, and inventive place-based learning is encouraged.
"I am extremely proud to recognise this remarkable moment in VU's history. The establishment and ongoing success of the VU Block Model is a testament to the hard work and innovative thinking of staff, along with the students who took part in this revolutionary approach to tertiary education. As my role as Vice-Chancellor comes to a close, I am gratified to have had the opportunity to be involved in such a challenging and rewarding chapter, which has permanently altered the tertiary landscape in a profound way," said Professor Peter Dawkins.   
This year, VU took out the top spot for Victoria for undergraduate learner engagement in the 2021 Good Universities guide. The annual ratings ranked VU as the fifth most successful university in Australia for student engagement.
Data released since 2019 confirms that 86 per cent of first-year students passed their units, compared with 74 per cent in 2017, the year the block model was introduced, and 27 per cent of students received a high distinction, compared with 20 per cent in 2017.
"Due to the COVID-19 pandemic, all our teaching switched to remote learning, which turned out to be very compatible with the Block Model. Now, more than ever, students will need to graduate university with skills to ensure their employability. The VU Way is designed to ensure students are work-ready, tech-ready and life-ready, a trio of inter-linking skills that provide a solid foundation on which to build success," added Professor Peter Dawkins.
Bachelor of Business student Imogen Hair is one of 650 students graduating from VU on Wednesday, 16 December, 2020. "I found that the Block Model allowed me to focus intensely on the subject and the primary content that I needed to learn. It really helps you to hone in and understand the content in a high-pressure environment, which is a positive, realistic workplace skill to have – learning intensively and completing tasks in a short period of time compared to a regular 12-week semester," she said.
Learn more about Victoria University's Block Model, or The New Way To Do Uni.
To arrange an interview with Professor Peter Dawkins, Vice-Chancellor Victoria University, contact Frances Atkinson, Media Adviser – [email protected]; 0435 960 793.