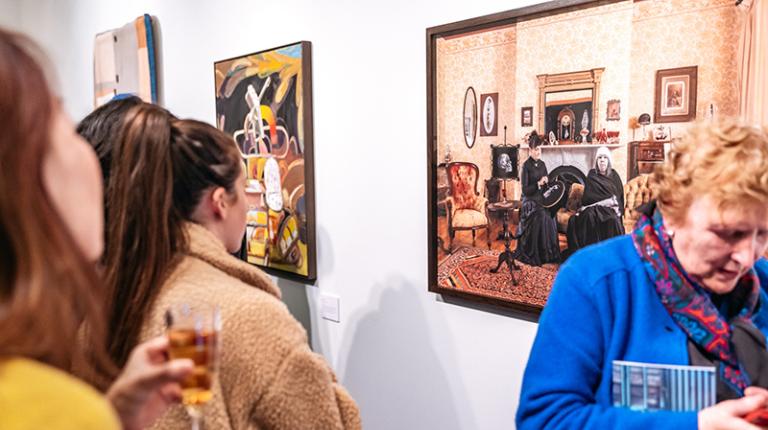 Over 170 works from across Australia have been shortlisted in three categories for the esteemed Footscray Art Prize. The works will be on display from 7 May until 5 June at Footscray Community Arts Centre and VU at MetroWest.
The judging panel – formed by NGV Curator Myles Russell-Cook, VCA lecturer Vikki McInnes and former Director of Heide Kirsty Grant – selected the shortlisted works following a review of over 830 entries, a record number of entries for the third iteration of the biennial Prize.
"What a joy it was to see the breadth and depth of entries into this year's [Footscray Art Prize], and what a shame we couldn't include every single one in the exhibition. Heartfelt thanks to all of the artists for holding their nerve during these most challenging of times, and hearty congratulations to all the finalists – it's going to be quite a show!" – Vikki McInnes
39 artworks are shortlisted in the main category, three in the street art category, and 160 artworks from the young artist categories will be exhibited.
Mediums range from a cardboard protest sign to geographical core samples and a hologram device to delicate ceramic porcelain with recurring themes of isolation and relationships.
"The entries provided a fascinating glimpse into contemporary creative practice around the country, both in terms of trends in the material means artists are working with, and the issues that are most relevant." – Kirsty Grant
Megan Evans has made the shortlist for a second year in a row with an intricately beaded piece. Layla Vardo, who will show David Attenborough in a new light through her video, and David Cox, an artist from the Warmun Art Centre who reimagines ways of communicating his Dreaming stories, are just a few of the emerging and established artists to be featured in the exhibition.
"Following lockdown, and a year when many artists were forced to adapt their practice to work in new ways and often under extreme circumstances, each of the entries is a testament to the power of all artists' creativity during difficult times." – Myles Russell-Cook
Shortlisted artists go into the running for a total cash prize pool of $28,000, including the coveted $10,000 main prize, with winners announced on Friday 7 May at the exhibition opening night.
The biennial prize is a unique collaboration between Victoria University, Maribyrnong City Council, Footscray Community Arts Centre and the Rotary Club of Footscray, who share a commitment to demonstrating and promoting creativity, cultural achievements and the arts.
For more information about the upcoming exhibition and to view a list of shortlisted artists, visit the Footscray Art Prize website.
Exhibition details
The exhibition at both locations will be held from Friday 7 May to Saturday 5 June.
Footscray Art Prize & Street Art Prize shortlist exhibition
Footscray Community Arts Centre
45 Moreland Street, Footscray
Exhibition opening: 6–8pm Friday 7 May.
Announcements: from 6.30pm.
Young Artists Prize
VU at MetroWest
148 Nicholson Street, Footscray
Exhibition opening: 4.30–6pm Friday 7 May.
Announcements: from 5.15pm.