School Breakfast Clubs: 2018 Research Seminar
This event has already taken place.
This 2018 Research Seminar, on 9 October at Footscray Park Campus, addresses the issue of Australian children going to school hungry.
Presented by the College of Arts and Education and the Institute for Sustainable Industries and Liveable Cities (ISILC), the lunchtime seminar is a free to any VU staff and students who would like to attend.
Dr Fiona MacDonald of ISILC, VU Research, presents important findings on one of the effects of poverty on school-aged children.
Topic: School breakfast clubs & the problem of admitting to being the one in five
Recent research found that one in five Australian children arrive at school hungry. Increasingly, schools are being asked to provide food to tackle the negative consequences and disadvantage children experience through the effects of hunger.
In many cases these programs offer food to all students, designed to remove the stigma attached for children in admitting their hunger. For vulnerable families though, the mandatory reporting obligations of school make the admittance that their children need breakfast at school problematic.
The Victorian Government's $13.7 million, School Breakfast Clubs Program (SBCP) has been designed to remove the stigma for these children and families, yet case study research with six Victorian schools revealed an ongoing stigma.
In this presentation, Dr Fiona MacDonald considers the tension between the breakfast-for-all approach of the SBCP program with ongoing stigma for children and families.
Dr Dianne Hall will chair the discussion.
Seminar details
Date: 9th October 2018
Time: 12 noon – 1pm
Venue: Building D, Room D747, Footscray Park Campus
RSVP: email

[email protected]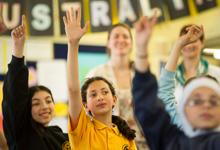 When?
This event has already taken place.
Where?
Footscray Park Ballarat Road
Footscray
Australia