Picturing Footscray Photography Prize exhibition
This event has already taken place.
Thursday 16 May 2019

to

Friday 7 June 2019
Picturing Footscray is an annual community photography prize that focuses on Melbourne's unique inner-west suburb of Footscray.
Established in 2016, Picturing Footscray invites photographers of all capabilities to explore the streets of Footscray. This year, West Envy is the guiding theme. What does Footscray have that other places don't?
View all of the interpretations in this major salon-style exhibition held at VU at MetroWest.
Exhibition opening
Join us for the opening of the annual Picturing Footscray Photography Prize and announcement of the prize winners!
Date: Thursday 16 May
Time: 6pm - 8pm
Location: VU at MetroWest, 138 Nicholson Street, Footscray
Featuring performances by the Choir of Opportunity and catering by local Ethiopian restaurant, Konjo Cafe.
Free event and everyone is welcome! Please RSVP online. 
People's Choice Award
Which photograph is your favourite? Have your say and vote for a photograph that you think is deserving of the $500 People's Choice Award. 
Voting opens on Friday 17 May. The winner of the People's Choice Award will be announced on Tuesday 11 June 2019.  
How to vote
Online voting platform
Visit the online voting platform and vote for your favourite photograph. Only one vote per person. Click the photo to view more information. 
Vote Boost in person
Is there a particular photo that you really like and want to win? Visit the Picturing Footscray exhibition at VU at MetroWest, 138 Nicholson Street Footscray to enter a 'Vote Boost'. 
A 'Vote Boost' is equal to 10 online votes. Ask at reception for a 'Vote Boost' and lodge your vote.
Visit the Exhibition at MetroWest
VU at MetroWest is always open for exhibition viewings on Monday and Tuesday.
For all other days, get in contact before planning your visit.
Phone: +61 3 9919 7043
Email: [email protected]
Facebook: send a message via the VU in the Community Facebook page
Please note that votes may be audited. If privacy settings are such that enough identifying details cannot be obtained from an account to reasonably believe that it is a genuine account or it is thought that the account voting is fake or not genuine then these votes will not be counted and they will be deducted from the final count.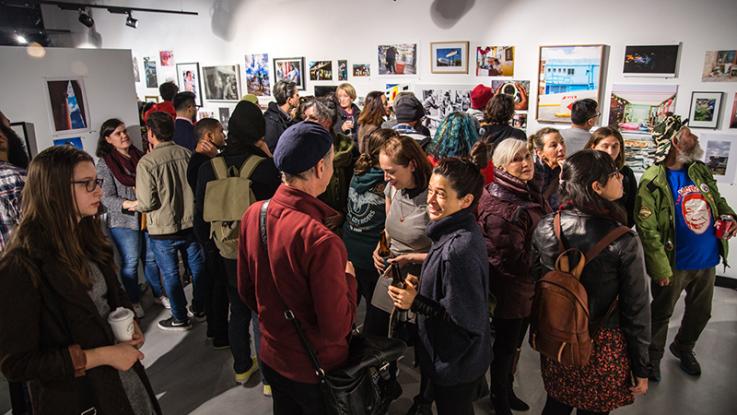 When?
This event has already taken place.
Exhibition opening: Thursday 16 May, 6pm - 8pm
Exhibition: Thursday 16 May - Friday 7 June
Where?
VU at MetroWest (Footscray) 138 Nicholson Street
Footscray
Australia