One Night in Footscray 2017
This event has already taken place.
Spend One Night in Footscray and discover the art spaces, galleries, venues and hidden in-between spaces at a free event, Friday 24 November.
Experience Footscray after dark. Enjoy roving performers, live music, DJs, kids' activities, gallery exhibitions, an artist market and participatory art installations under the stars in this free program open to people of all ages.
Celebrate local talent
One Night in Footscray will feature outstanding local creative talent.
VU students' work
VU at MetroWest will host a number of works from students from Victoria Polytechnic Creative Arts, including:
a pop-up recording studio
augmented reality
the 2017 Graduate Exhibition.
Creative highlights
Other highlights of the night include:
a pop-up dance floor
Heather Horrocks's piece TIME OUT, commenting on two public art spaces in central Footscray
Larissa MacFarlane's Disability Pride which brings together some of Melbourne's best-known disability activists with local community, for a live and collaborative paste up
Trocadero Art Space presenting an evening of exhibitions and performances specifically commissioned for One Night in Footscray.
Promoting art in Footscray
The event aims to:
encourage journeys through central Footscray and its creative spaces
highlight the work of local arts and makers
support emerging practitioners and students, creating a platform for them to showcase their work
promote and encourage audiences and artists to see, experience and interpret Footscray, its people and places.
Date & time
Date: Friday 24 November
Time: 5pm till late
View the program: www.onenightinfootscray.com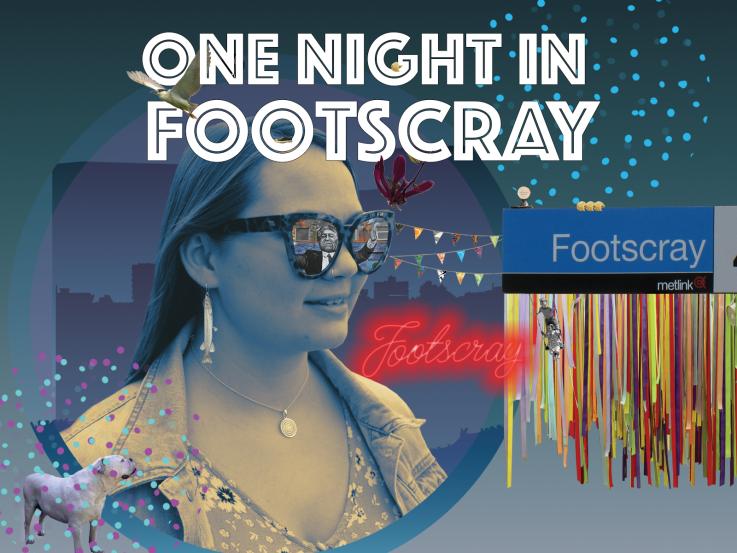 When?
This event has already taken place.
Where?
VU at MetroWest (Footscray) 138 Nicholson Street
Footscray
Australia