Losing Footscray: tag your town!
This event has already taken place.
Wednesday 18 April 2018

to

Thursday 17 May 2018
Losing Footscray: tag your town, is an interactive art project acknowledging the changing landscape of Footscray.
Both a personal journey and a public pin board, the project invites you to tag a big map of Footscray with a luggage label to acknowledge places where change, loss or joy has made its mark on your heart.
Heather Horrocks, reluctantly now a former resident of Footscray, will tag two houses, the Town Hall, art spaces and the ANA clock. Her reasons for selecting these locations are that she:
still loves the houses she lived in on both sides of the railway line
was briefly, years ago, Mrs Footscray Mayor
found her tribe - and became an artist - in Footscray
covered – and shamed - the ANA clock in Footscray's CBD with crocheted and sewn fabric for One Night in Footscray last year.
Get involved
What will you tag? There are a few different ways that you can get involved with this interactive art project:
Come along to VU at MetroWest during business hours to view the five metre wide map, find your favourite site(s) and add your tag.
Use the Facebook event page to tell us what you would like to tag, including a story about the what and why of your tag and Heather will transcribe this onto the physical map.
About the artist
Heather has been involved with the Footscray community for over 20 years, using her art to challenge, inquire and incite curiosity. Her work oscillates from charcoal works on paper, crocheted flowers and textile hangings, to outdoor paste-ups and experimenting with found objects.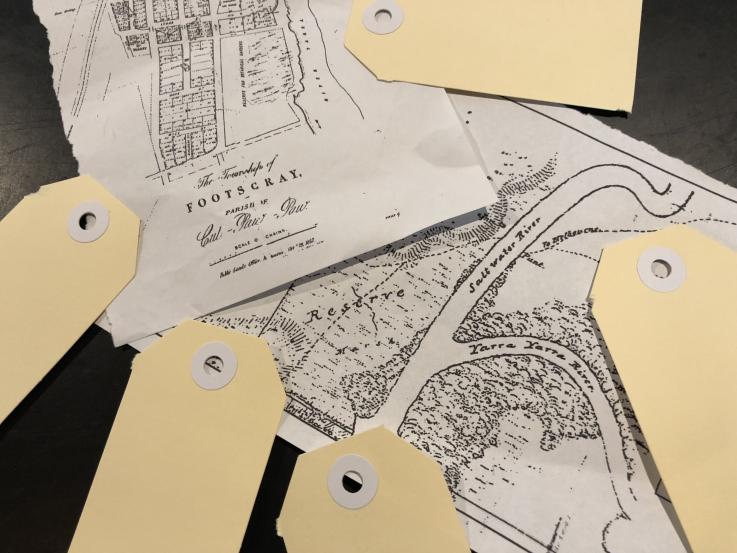 When?
This event has already taken place.
18 April 2018, 9:00am

to

17 May 2018, 8:00pm
Where?
VU at MetroWest (Footscray) 138 Nicholson Street
Footscray
Australia