Her Place: Women in the West
This event has already taken place.
Tuesday 7 March 2017

to

Friday 31 March 2017
Her Place: Women in the West honours the lives and contributions of ten women in Melbourne's west, including six recipients of the Victorian Honor Roll of Women.
The exhibition tells the stories of women who have contributed to Australian society at both national and local levels through their work as artists and activists, writers and scientists, businesswomen, lawyers and community leaders.
The lives and experiences of women have traditionally been under-represented in historical narratives, museum collections and the public sphere. Many women from the west have been additionally marginalised due to issues of race, economic status and access to education.
Her Place: Women in the West is a rare opportunity to pay tribute to the many women who have risen above the challenges they have faced to make a mark on Melbourne's west and beyond.
Profiled women
Susan Alberti AO, businesswoman and philanthropist AO
Paola Balla, artist and activist
Ruth Crow AM, activist
Maisie Carr (nee Fawcett), botanist and ecologist
Kerry Greenwood, writer and lawyer
Joan Kirner AM, former premier of Victoria
Melba Marginson, refugee and immigrant advocate
Halima Mohamud, Somali community leader
Alice Pung, writer and lawyer
Peta Searle, Development Coach, St Kilda Football Club
The exhibition is accompanied by a comprehensive public program. For more information and to book your spot, visit herplace.eventbrite.com.au.
All events are held at VU at MetroWest.
Public Program
Everyday documents & Australian women's history: why archives matter
15 March, 6-8pm
Join us for a panel discussion about the role of serendipity, family stories and fragments of paper in the writing of history, including so-called 'big picture' academic history. Germaine Greer described archives as 'the pay dirt of history': this panel of historians and archivists will talk about some examples of 'pay dirt' that have made a difference to their research into Australian women's lives.
Cost: FREE
In-conversation with Women in the West
17 March, 12.30-1.30pm
An informal lunchtime conversation with women featured in the exhibition.
Cost: FREE
Loving Feminist Literature: Decolonizing Feminism, Building Solidarity
20 March, 5.30-8.30pm
A night of live readings of bold and irresistible feminist texts by a selection of diverse feminist educators, students and practitioners, including Clare Land, who will read from her book 'Decolonizing Solidarity'. The audience will be invited to participate in discussions that celebrate and re-invigorate collective feminist praxis and love across difference.
Loving Feminist Literature is a collective of intersectional feminists who celebrate the political and intellectual contributions of feminists far beyond the white liberal agenda.
Cost: $10 full-price | $5 concession
Bookings via Loving Feminist Literature
Her Place: Women in the West - Walking Tour
22 March, 6-7pm
A guided walk through Footscray focusing on the lives of women who have made a difference and contributed to the West. Over the course of the walk you will hear about women of tenacity - leaders, advocates, storytellers and speakers of injustices. Through the spoken word and recounted experiences, women, both past and present, will be celebrated inspiring the next generation of women and men.
Comfortable shoes and wet weather gear recommended. Please get in touch for wheelchair access.
Cost: FREE
Location: Starting at Footscray Community Arts Centre, finishing at Her Place: Women in the West exhibition, VU at MetroWest
Building Feminist Communities
30 March, 6-8pm
In light of a shifting political landscape the work of feminists is about to intensify. Now is the time to once more organise and collectivise. This event will bring together academics, activist groups and philanthropic organisations to showcase their work and share their aspirations for 2017. Feminists across all sectors will have the opportunity to get together, meet others and build partnerships. Nibbles, drinks and music by an all-female band, Kerryn Fields and the Dudettes.
Hosted by the Victoria University Feminist Research Network, a community of feminist scholars from Victoria University in conjunction with Her Place.
Cost: FREE
Education Program
Teaching Gender Equality: A professional development for teachers
27 March, 5-7pm
This program will be delivered by experienced teachers and will cover:
Building a Feminist Collective at your school with Briony O'Keefe from Fitzroy High Fem Collective and Sophie O'Connell from the Brunswick Secondary College Feminist Group
Getting a Gender Equality Policy in your Primary School: Why it's important and how to do it with Jess Duncan from Derrimut Primary school
Respectful Relationships Education: Whole School Approach. What is DET doing? With Barb Jennings, Women's Officer, AEU
Refreshements provided.
Cost: FREE
Maximum 35 people
Guided Educational Tours - Primary and Secondary
Mondays, Wednesdays & Fridays, 7 - 22 March inclusive, 10.30am, 1.30pm (40 minute sessions)
Book your school class in for a guided tour of the 10 amazing local women who feature in the exhibition, Her Place: Women in the West. An experienced teacher will facilitate your visit providing educational resources linked to the Victorian Curriculum and activities to engage your students.
Cost: FREE
Bookings: [email protected]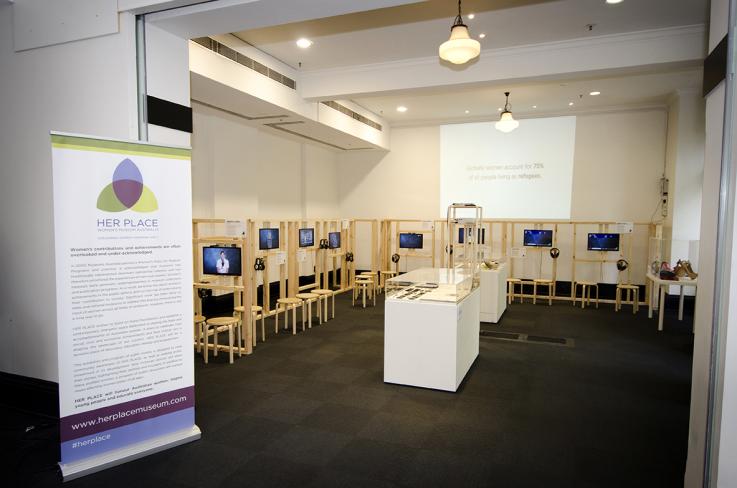 When?
This event has already taken place.
7 March 2017, 9:00am

to

31 March 2017, 5:00pm
Where?
VU at MetroWest (Footscray) 138 Nicholson Street
Footscray
Australia