Failed Space: A Connect Alumni Exhibition
This event has already taken place.
Thursday 25 October 2018

to

Saturday 17 November 2018
This exhibition by writer, director, researcher and live-performance artist Benjamin Cittadini creates an immersive experience that explores the spaces of Footscray.
Notions of urban renewal and the 'activation' of public space are interrogated through the re-presentation of its failed infrastructure and the forgotten voices of its past. Can space fail, or does one fail it? Ghostly voices narrate the movement of people through the broken urban streetscape – the streets of Footscray fail anew, making tentative and defiant missteps in the face of coordinated activation. 
Broken or outdated seating, forgotten planter boxes, rubbish bins, signage and pavers – objects of failed public designation – sit as monuments within a soundscape of oral-history fragments sourced from the Living Museum of the West archives.
About the artist
Benjamin Cittadini is a writer, director, researcher and live-performance artist. He has written and directed plays for stage, curated and performed in multi-artform installations and events, and developed socially engaged and dialogic performance adventures for public spaces.
His work with Craig Peade as the performance group ROARAWAR FEARTATA has included:
Bunny with David Quirk (2011, 'Innovation in Theatre' Award Winner, Green Room Awards nomination for sound design)
Karen Casey's Global Mind Project with Jill Orr, Stelarc and Domenico DiClario (2011, Federation Square)
Potlatch – the good life as a City of Melbourne 'Test Sites' project (2016).
His live art work has been performed at:
Performa (New York, 2013)
Liveworks (Performance Space, Sydney, 2010)
FOLA (Festival of Live Art, Melbourne, 2016).
Most recently he has co-curated and developed site-specific participatory performance work with artists Fiona Hillary and Ceri Hann as part of the 'Urban Lab' project with the City of Port Phillip.
Benjamin completed his PhD in 2014 at Victoria University. Titled 'Wasted Space: performance, public space, urban renewal and identity', his research explored the process of urban renewal and the production of public space in Footscray through the practices of dialogic, performative and participatory art.
About Connect 18
The Connect exhibition series is biennial art exhibition that showcases VU alumni artists and their amazing works. The exhibition series was established in 2008 and Connect 18 is the first solo exhibition in the series after a call out was advertised to alumni artists. Alumnus Dr Benjamin Cittadini (Bachelor of Arts (Performance Studies) and Doctor of Philosophy) was selected from over 20 applications earlier in the year.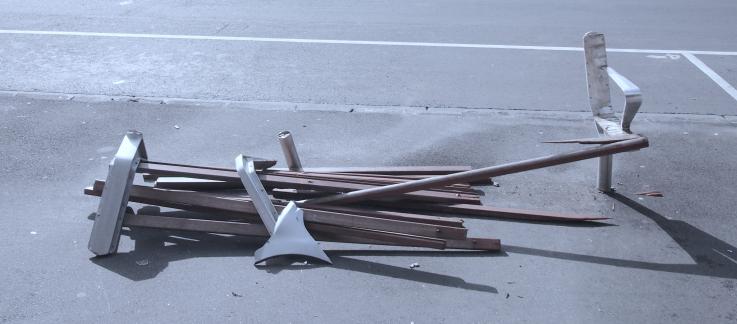 When?
This event has already taken place.
Exhibition:
25 October - 17 November
Exhibition opening:
Thursday 25 October, 6pm - 8pm
Where?
VU at MetroWest (Footscray) 138 Nicholson Street
Footscray
Australia