Australasian Universities Power Engineering Conference 2017
This event has already taken place.
Sunday 19 November 2017

to

Wednesday 22 November 2017
We are pleased to invite you to take part in the 2017 conference, to be held from 19 – 22 November.
Hosted by the Victoria University College of Engineering & Science, the conference will be held at the Melbourne Park Function Centre, Melbourne & Olympic Parks.
Theme: Smart Power Grids in the 21st Century
Smart energy technologies are transforming the power network into a smart grid capable of meeting 21st century economic, security and environmental challenges. But the smart grid still faces hurdles.
Particularly, the requirement for extensive field testing to prove new energy systems and regulatory reform, in order to eliminate financial disincentives for adopting new technologies.
A host of new smart energy devices and systems are emerging that can take pressure off overloaded grid infrastructure and power costs, dramatically improving grid reliability and security, and accelerating the growth of cleaner power generation.
Call for papers
The conference aims to cover all aspects of power engineering. Submissions are highly encouraged in, but not limited to, the following areas:
Power system operation and planning
Power system stability & control
Electricity market
Asset management
Condition monitoring
Power system stability
Fault diagnosis in power systems
Power quality issues
Smart grid including smart buildings & cities
Smart metering & phasor measurement
Wide area monitoring & control
Renewable energy systems
Microgrids (DC, AC, & AC/DC)
Remote power systems
Grid integration of electric vehicles
Different types of energy storage technologies
Small- and large-scale integration of energy storage systems
Cyber security of smart grids
Transactive energy management
Data analytics in smart grids
Resiliency of power grids
Multi-agent frameworks for power systems
Substation automation of power systems
Power system protections
Application of power electronics in power systems
High voltage engineering
FACT Devices
Power engineering education
Electrical machine and drives
We invite researchers and industry professionals from all over to submit original papers outlining innovative solutions (not currently pending publication elsewhere).
Important dates
10 April 2017: Paper Submission System Opens
28 July 2017: Paper Submission Closing Date
11 September 2017: Notification of Paper Acceptance
10 October 2017: Final Paper submission (Camera Ready)
Partners & sponsors
AUPEC 2017 is organised in collaboration with:
Australasian Committee for Power Engineering (ACPE)
The University of Melbourne
Deakin University
RMIT University
Photos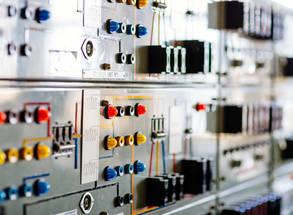 When?
This event has already taken place.
19 November 2017, 9:00am

to

22 November 2017, 5:00pm
Where?
Melbourne Park Function Centre
Melbourne & Olympic Parks
Batman Ave
Melbourne
VIC 3000