2017 Oxfam Trailwalker Melbourne
Friday 7 April 2017
to
Sunday 9 April 2017
Join Team VU and become part of the Victoria University Team at the 2017 Oxfam Trailwalker Melbourne.
Very occasionally in life you get the chance to achieve something extraordinary; something that will inspire others and prove something to yourself. Oxfam Trailwalker is one of those rare opportunities. It's an epic journey that changes lives forever – including yours.
Every step you take helps raise vital funds to support people living in poverty.
Oxfam works with local communities helping them to create their own sustainable solutions to poverty. By being part of the VU Trailwalker team you will help to:
promote education
ensure access to clean water
teach skills to grow food
advocate for basic human rights.
Oxfam Trailwalker is one of the most inspiring team challenges in the world. You and three mates will journey through 100km of bush trails within 48 hours. It's not a relay, your team has to start together, stick together and finish together.
It's tough, but with the right training and attitude you'll be amazed at what you can achieve. The feeling when you cross the finish line will be something you'll never forget.
Get involved in something really special, be part of the VU team!
Contact us
Get in touch to find out more.
Email: sport@vu.edu.au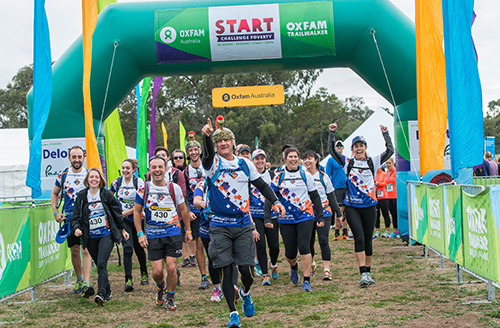 When?
7 April 2017, 9:00am
to
9 April 2017, 9:00am
Where?
Jells Park Waverley Road Wheelers Hill VIC 3150