Victoria University (VU) pioneered transnational education partnerships in Asia, first delivering VU qualifications in Asia more than 20 years ago.
In 2015, we delivered VU courses to more than 8500 students in China, Malaysia, Vietnam and Singapore in partnership with highly regarded international partner institutions. These institutions include Liaoning University in Shenyang Province and the Central University for Finance and Economics in Beijing, both recognised by the Ministry of Education of the People's Republic of China (Chinese) as leading universities through their inclusion in Project 211.
Through these relationships we have established ourselves as a leader in the delivery of transnational education.

With an innovative range of models and many years of experience in the field, we are well-positioned as a global institutional partner of choice. Find out more about developing an international partnership with Victoria University.
In 'International delivery partnerships':
Tailored courses and curriculum
The course structures and curricula delivered in English at our international partner institutions are equivalent to what we teach in Melbourne. This means that a VU qualification awarded to graduates at our partner institutions enjoys the same recognition as a VU qualification awarded to graduates in Australia.
Courses and teaching models are developed by VU College, a specialist teaching college of the University. We work closely with our international partner institutions to ensure that students receive the same high quality educational experience as those who study with us in Australia. VU College staff travel regularly to our partner institutions to teach.
Students enrolled in a VU course delivered at one of our international partner institutions also have the opportunity to complete their qualification in Australia.
Graduation ceremonies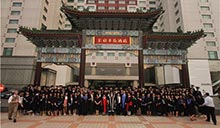 Students who complete their studies with any of our international partner institutions in China or Malaysia have the opportunity to attend one of our international graduation ceremonies. These are held in China and Malaysia each year.
Following graduation, VU students who complete their studies with one of our international delivery partners, or have studied in Melbourne and have now returned home, can stay in touch through one of our international alumni groups.
Our alumni networks in China, Malaysia, Singapore, Vietnam, Hong Kong and Indonesia offer great opportunities to network with fellow graduates, including alumni gatherings that generally occur at the same time as our international graduation ceremonies.