Come along and give your hair the treatment it deserves. We offer cutting, styling and colouring services to change or enhance a client's look.
Our students regularly win multiple awards in the annual Hair and Beauty Industry Association (HBIA) Awards.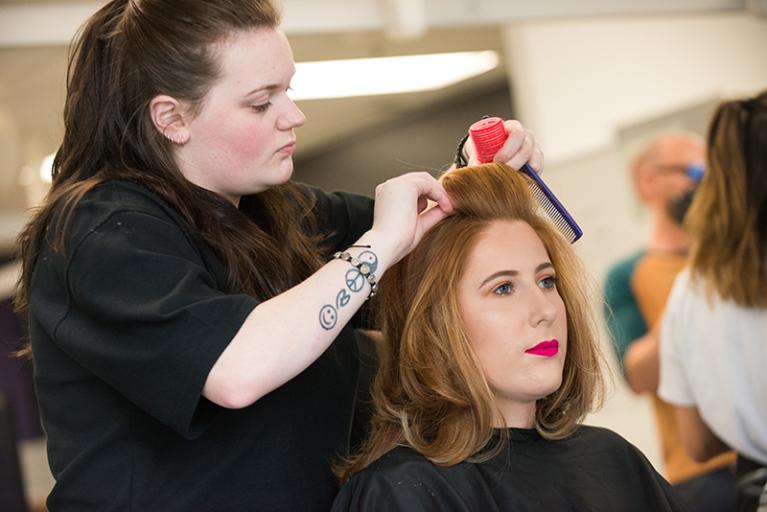 Our practitioners
Our students provide treatment under the supervision of our qualified and experienced team of professionals.
All students are studying hairdressing in the classroom and salon.
Hairdressing services available
Our range of hairdressing services includes:
cutting
styling
colour
highlights (bleaching)
perming
straightening.
Price list
The hairdressing salon offers loyalty cards, staff discounts and concession discounts. Customers are required to present their concession card, staff ID or loyalty card at the time of treatment.
Service type
Service
Cost
Cuts
Ladies style cut & blow-wave
$20
Blow-waves, sets & hair-up
Blow-dry long hair
$20
Blow-dry short hair
$10
Shampoo, set & comb up
$5
Hair-up style
from $40
Tints & bleaches
Regrowth tint short
$35
Regrowth bleach
$50
Full head bleach short
$65
Full head bleach long
$105
Correction
Corrective colour
from $50
Colour gloss
Short hair
$30
Long hair
$50
Toner
from $50
Foil highlights
Full head short
$65
Full head long
$75
Half head short
$45
Half head long
$65
5 – 10 foils
$20
Half head foils & tint short
$65
Half head foils & tint long
$80
Balayage with base colour, med
$80
Balayage with base colour, long
$95
Balayage with toner
$60
Keratin smoothing
Short/medium hair
$160
Long hair
$220
Keratin smoothing express 1hr
Short/medium hair
$80
Long hair
$120
Straightening
Short/medium
$80
Long hair
$100
Treatments
Hair treatment
$10
Men's Grooming
Men's style cut
$15
Men's short taper cut
$10
Head shave
$20
Face shave
$10
Beard & Moustache
from $5
Grooming (ear,nose,eyebrow)
$5
Carves & track designs
from $5
Sustainable salon green fee of $2 per visit applies
Prices are current at the time of publishing and may be subject to change (updated 30 June 2017). Please call us for an update on our services and to make an appointment.
Salon hours & booking
Hair at VU is currently closed until further notice due to coronavirus (COVID-19).
Location
Hair at VU
Assessment Salon
City King Campus
Level 6, 225 King Street
Melbourne.
Phone: +61 3 9919 7958