Pamper yourself for less at Victoria University's Beauty Day Spa & Salon.
Experience total relaxation and rejuvenation in our King Street facilities. We offer beauty therapy and massage services at reduced rates, with treatment provided by our students.
Our students provide treatment under supervision of our qualified and experienced team of professionals. All students are studying beauty therapy in the classroom and salon.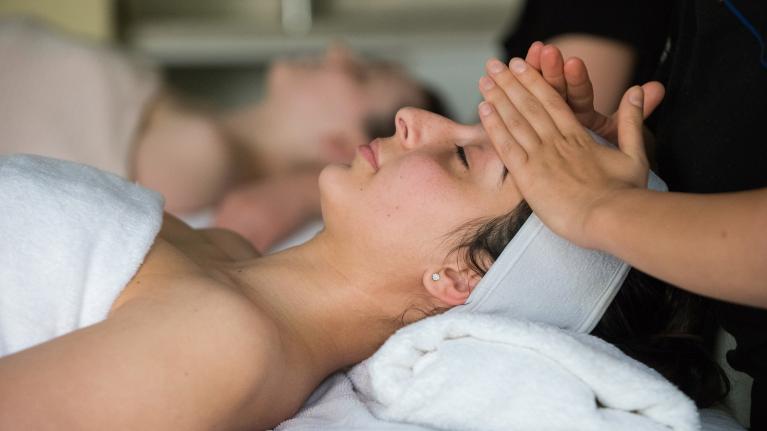 Beauty therapy treatments available
Services available include a full range of professional services in beauty therapy.
Our beauty treatments include:
waxing (for male and female)
facial and body treatments
eyelash and eyebrow tinting
manicures and pedicures
electrolysis
spa therapy - for example Body Wrap, which includes dry body brushing & scalp massage.
VU uses disposable Go Green towels for every service.
Price list
The beauty salon offers discounts to staff and students of VU who present their staff or student ID at the time of treatment.
Service type
Service
Cost
Facials
Manual facial
$15
Express facial
$15
Back treatment
$10
Eyelash tint
$8
Eyebrow tint
$5
Eyelash extension
variable
Hands and feet
Manicure with file
$10
Pedicure with file
$10
French manicure with file
$12
Manicure with paraffin
$15
Pedicure with paraffin
$15
File and polish
$8
Shellac© with manicure
$20
Shellac© with file
$10
Shellac© with pedicure
$20
Shellac© removal
$10
SPA manicure
$20
SPA pedicure
$20
Female waxing
Half leg
$10
Full leg
$15
Bikini line
$8
Underarm
$8
Arm
$10
Lip, chin or eyebrow
$8
Male waxing
Chest or back
$20
Shoulder and neck
$15
Full leg
$20
Full arm
$15
Electrolysis
Electrolysis
$5
Body massage
Full body (1 hour)
$15
Back (30 minutes)
$8
Make up
Special occasion
$15
Camouflage
$10
Finishing touch
$10
Tanning
Spray tanning
$10
Spa treatments
Hydro cocoon (60 minutes)
$35
Body wrap (60 minutes)
$30
Body scrub (45 minutes)
$20
Spa facial (60 minutes)
$30
Hot stone massage (90 minutes)
$40
Aromatherapy massage (75 minutes)
$40
Sauna
$15
Prices are current at the time of publishing and may be subject to change. Please call us for an update on our services and to make an appointment.
For more information on our signature treatments see our Beauty Services brochure.
Salon hours & booking
The beauty salon is currently closed until further notice due to coronavirus (COVID-19).