We provide education in all aspects of the law giving you an outstanding number of opportunities to empower your career development so you graduate work ready.
Our extensive network of local and international partnerships as well as expert legal professionals will enable you to take advantage of our distinguishing features such as:
Law & Justice Journal
Our Law and Justice Journal is the official law journal of the university.
The aim of the journal is to:
explore topical and contentious legal issues
publish shorter, punchier articles, ranging from 4000 – 6000 words
extend our audience beyond the traditional legal community, including government bodies, financial institutions and other interest groups.
View the current journal issue. Past copies are also available to view in our archives which include the versions formerly known as Dictum.
Peer review system
Final publication decisions will be made after consultation between the editors and the governance board.
Submissions should:
Sponsors
We accept sponsorship from legal and related organisations who would like to show their support for the journal and our other publications.
Expressions of interest
If you're interested in becoming an author, peer reviewer or in sponsoring the journal please submit an expression of interest.
Contact the journal
Discipline guide
For an overview of our courses, research strengths and facilities, download the Law & Justice Discipline Guide.
Student placements & internships
One of our greatest strengths as a university is our links with industry. We provide education in all aspects of the law and as one of the most industry connected universities in Australia our students graduate work-ready.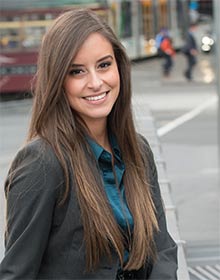 Law and justice students have access to unique court internship and placement programs with the Magistrates', Supreme, County and Family Courts, with the rare opportunity to shadow a judge. We recently launched a new internship program with the Victoria Police in the Legal Services Department and the Prosecutions Division.
Our students' professional legal skills are further enhanced by our mooting program. Students compete against law schools in national and international competitions to resolve legal issues that resemble real-life disputes in a simulated live courtroom setting.
Some of our major partners and connections include the Department of Justice, Victoria; FCG Legal; Department of Education and Employment (Commonwealth) (Learn Experience Access Professions Program); Law Institute of Victoria; Council of Legal Education; Magistrates' Courts of Victoria (Melbourne, Sunshine); Society of Notaries of Victoria and Victoria Police.
'VU's real industry learning helped us gain the confidence and networks to make it in this competitive job market. In my final year at VU I was awarded a graduate position with the Australian Prudential Regulation Authority (APRA), which led to a permanent role as a senior analyst.'

Dorothy Tsirmbas – Risk Management, Australian Prudential Regulation Authority (APRA)

Bachelor of Laws/Bachelor of Business
Accreditations
Our courses are accredited by:
Council of Legal Education
CPA Australia (Certified Practicing Accountants)
Institute of Chartered Accountants Australia
Australian Computer Society
Australian Human Resources Institute
Chartered Institute of Logistics and Transport (CILTA)
EFMD Programme Accreditation System (EPAS)
Australian Marketing Institute (AMI)
Australian Psychology Accreditation Council (APAC)
National Recognised Training.
Experts
Our students learn from expert teachers and high profile adjunct professors including:
The Honourable Michael Kirby, former High Court Judge
The Honourable Nicola Roxon, former Attorney-General
The Honourable Michael Rozenes, County Court Chief Judge
Robert Stary, criminal law specialist.
'Victoria University was the first University that first commenced a program with the Magistrates' Court, and the Magistrates' Court is the people's court. That's where 90% of criminal cases are resolved. This is what VU law students have ahead of everyone else – practical placements and practical knowledge of how the justice system operates.'

Robert Stary – Principal, Stary Norton Halphen Criminal Law Specialists
Contact our College
In person at the Student Services Centre
Level 1, 295 Queen Street, City Queen Campus
Phone: +61 3 9919 6100
1300 VIC UNI (1300 842 864)
ASKVU Find answers and ask questions

Follow Victoria Law School on Facebook