The College of Engineering & Science offers courses in engineering, information technology and science. All courses are designed to ensure that you graduate with the skills and knowledge to pursue a career in a high-demand industry, and that you will enjoy studying in a field that you're passionate about.
The College also offers postgraduate courses, both by coursework and by research, taught and supervised by staff who are experts both in their disciplines and in teaching.
College researchers include staff who are world leaders in their fields, and the high quality of College research helps ensure that our courses remain relevant, world-class and allied to industry.

In 'Engineering & Science':
Message from the Dean
Professor Chris Perera, Dean of the College of Engineering & Science: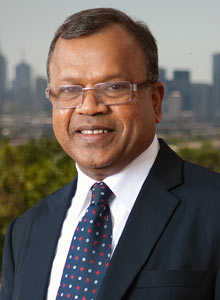 We deliver courses in the areas of building, engineering, information technology and science from Bachelor degrees through to PhD.

Our courses, particularly in engineering, use Problem Based Learning (PBL) - a team-based teaching and learning approach that uses real life problems to help you develop important skills such as problem-solving, teamwork and communication. Students have access to state-of-the art laboratories where they use modern equipment to undertake projects.

Our research is conducted in our Institutes, Centres and Research groups. We apply and conduct research in collaboration with industry and community to improve the sustainability of the world's resources.

Our "open door" policy ensures students have easy and regular access to their lecturers for extra assistance. Classes are small and lecturers get to know students very quickly.

We look forward to working with you. Feel free to contact our college staff if you have any questions.
Disciplines
The College of Engineering & Science encompasses seven disciplines:
Engineering
architectural and building engineering
civil engineering
electrical and electronic engineering
mechanical engineering
Science and Information Technology
information technology
mathematics and physics
science.
For an overview of our courses, research strengths and facilities, download the Engineering & Science Discipline Guide.
Our facilities
Our students gain 'hands-on' experience in our state-of-the-art laboratories and through industry placements and projects with our research partners including City West Water; CSIRO; Departments of Health, Primary Industries, Sustainability and Environment; Racing Analytical Services, Modern Olives; Nufarm; Clariant; and Fosters plus over 2000 industry affiliates.
We have specialised labs in areas such as geomechanics, hydraulics, thermodynamics, analytical chemistry, biotechnology, microelectronics, information technology, power engineering and mechanics. Our Werribee Campus is part of a modern technology precinct with cutting edge science facilities and a research centre, the Institute for Sustainability and Innovation.
VU students also have a range of opportunities to study and take placements in international settings. For example, our sports engineering students have been to the UK as part of a mobility program.
Student placements & internships
One of our greatest strengths as a university is our links with industry. We are one of the most industry connected universities in Australia with over 4,000 industry connections university-wide. Employers value our graduates because we provide them with many opportunities to be engaged with industry, from industry-relevant curriculum to workplace learning, that give real-life work experiences.
Our key college partnerships are with leading organisations such as City West Water, CSIRO, Departments of Health, Primary Industries, Sustainability and Environment, Shimadzu, Jemena, National Measurement Institute, and Racing Analytical Services.
'I've targeted VU students for the best part of two decades. They show so much practical training during their studies, they're ready to take on anything.

The lecturers are real-life practitioners which is implicitly important. This is central to the strength of the courses.'

Adjunct Professor Michael Jackson – Director, Woodburne Consulting
Accreditations
Our engineering and information technology courses are accredited by:
Engineers Australia Accreditation Board
Australian Computer Society.
Experts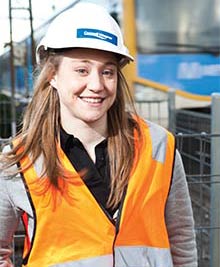 Our staff are experts and respected researchers in their field. For example, Professor Peng Shi was named one of the world's leading researchers in the Thomas Reuters list of Highly Cited Researcher, 2014 and 2015.
'The lecturers were more than teachers – they were mentors. The course provided a sound basis of technical knowledge and we put our learning into practice, solving real problems with our peers. We did a lot of projects that involved real building, so I felt well-equipped to enter the workforce.'

Laura McKenzie – Civil Engineer, Aurecon Group

Bachelor of Engineering (Civil Engineering)
Women in engineering & science
Female engineers excel in solving problems of social significance, making a positive impact on society and the environment.
This program provides opportunities for female students to pursue the same career paths as their male counterparts, and participate in workshops and events tailored to women. Workshops commence at secondary school level and extend to mentoring and support throughout their undergraduate and postgraduate career.
We equip our students with the technical skills and ability to promote the value of diversity. The demand for engineering and science graduates with these qualities provides female engineers and scientists the opportunity for a rewarding career in their chosen field.
For more information email Associate Professor Juan Shi on juan.shi@vu.edu.au.
Contact us
Contact staff in our college.
Phone: +61 3 9919 6100 or 1300 VICUNI (1300 842 864)
ASKVU Find answers and ask questions