Show off your culture at the Multicultural Festival
This event has already taken place.
There are many ways you can take part in the 2015 Multicultural Festival, from having a stall to participating in our scavenger hunt.
The Multicultural Festival creates greater awareness of the variety of cultures we have at Victoria University. Support our students and staff who promote (and are proud of ) where they are from.
Festival days at various campuses
Cultural & home country stalls
Be part of the Cultural & Home Country Stalls at this year's Multicultural festival and share your culture and country with other Victoria University students and staff through flags, food, traditional dress, pictures and music.
The Cultural and Home Country stalls will be held at Footscray Nicholson, Footscray Park and Werribee during Multicultural Festival to promote Victoria University's diverse and multicultural community.
We invite all Victoria University students and staff to be involved either as an individual or a group. We're also offering $50 to 5 lucky groups to help them properly promote their stall.
Register a cultural & home country stall.
VUSU lunch hop
Join the VUSU Lunch Hop (a progressive 4 course lunch at several restaurants) and try foods from a range of different cultures from various restaurants in Footscray.
To be held on 10 August (departing Footscray Nicholson) and 12 August (departing Footscray Park) you'll taste delicacies from Malaysia, Ethiopia, India and Italy.
At only $10 for 4 courses, make sure you secure your place fast.
Get your tickets for the lunch hop.
Multicultural scavenger hunt
Join your friends and fellow Victoria University students in a race around Melbourne to snap, collect and document different items at the Multicultural Scavenger Hunt.
The hunt will be held on Thursday 13 August from 2pm to 5pm, beginning at the Victoria University City Flinders campus.
To register, or for more information, email [email protected].
International photo competition
Take part in the International Photo Competition* and you could win $100!
Simply send your 'Favourite International Photo' to [email protected] or #multiculturalvu by Tuesday 4 August to be in the running.
Photos will be printed out and placed around Victoria University campuses during Multicultural Festival for students & staff to vote on.
Terms & conditions of the competition.
Contact us
Student Life
Phone: +613 9919 8774
Email: [email protected].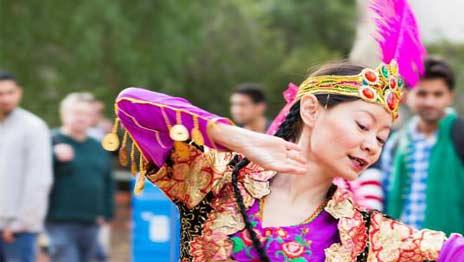 When?
This event has already taken place.
10 August 2015,

11:30am

to

1:30pm
11 August 2015,

12:30pm

to

1:30pm
12 August 2015,

11:00am

to

2:00pm
13 August 2015,

2:00pm

to

5:00pm