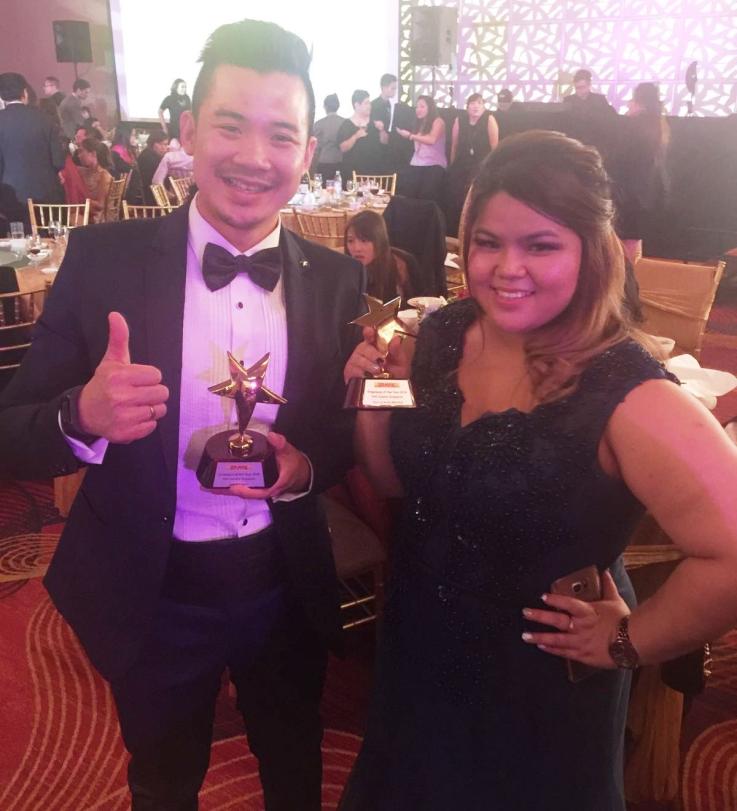 Fresh from winning two prestigious employee awards from global logistics company DHL, Victoria University (VU) alumni KerSoon Ang and Chai Lai Kuan credit their career success to their alma mater.
Alumni of the VU Bachelor of Business program, delivered by VU's partner institute Sunway College in Malaysia, the duo won top honours from DHL Singapore at an awards ceremony on January 21.
Of the 1,000-plus employees in DHL Singapore, KerSoon, the company's retail manager, was awarded Employee of the Year 2016.
His colleague and former junior, Lai Kuan, who works as an indoor account manager at DHL, won the Outstanding Salesperson Award for the second consecutive year, having received the accolade in 2015.
Lai Kuan has also been inducted into the elite DHL Sales Champions Club, whose members comprise the top 100 salespeople of the world.
KerSoon says the pair is "thrilled" to receive the awards.
"We can't agree more that we owe this success to VU and Sunway," KerSoon says.
"The course content was relevant to the working world, our interpersonal skills were steadily groomed and improved, the VU lecturers were an amazing bunch of people and the various facilities at Sun-U were top-notch," he says.
Lai Kuan agrees: "The course enabled me to develop my presentation and communication skills, which has helped me a lot in my current corporate sales career with DHL Express Singapore.
"The content was very comprehensive and the qualification is recognised worldwide. Besides that, Sunway has a very good reputation in the higher education sector and has always been a top choice for students in Malaysia."
KerSoon says he chose to study at VU on a family recommendation.
"My elder brother studied at VU and he, along with my parents, highly recommended me to join VU as well.
"Suffice to say, there have been no regrets."
Sunway College has delivered VU bachelor degrees in a number of business majors, along with the VU Master of Business Administration, for more than 22 years. In 2007, Sunway also began offering VU business courses at Sunway College in Johor Bahru (Malaysia).
This partnership enables students to study one or more semesters of their degree in Melbourne as part of a flexible transfer arrangement, thereby gaining invaluable international experience.
Both KerSoon and Lai Kuan studied the Marketing and International Trade dual major, graduating in 2007 and 2011 respectively from VU at Sunway College Kuala Lumpur, under the transnational education program.