Tuesday 15 September 2015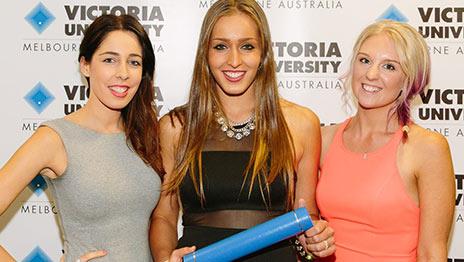 The VU sport awards celebrate and formally recognise outstanding sporting performance and service by individuals, teams and clubs across VU.
It also includes students who excelled at Australian University championships and those who represented the university and Australia at World University Games and major international championships.
VU's sporting Hall of Fame 2015 inductee will also be announced as part of the awards. The Victoria University Sport Hall of Fame includes:
John Butkiewicz (Lacrosse)
Tony Dodemaide (Cricket)
Brad Johnson (AFL)
Peter Thomson (Golf)
Andrew Gaze (Basketball)
Mike McKay (Rowing)
Rebecca Sullivan (Judo)
Larry Sengstock (Basketball)
Campbell Rose (Sailing)
Danny Morseu (Basketball)
Rachael Dacy (Pole Vault).
Categories
Awards are offered in the following categories:
Individual awards
Blue

Half Blue

Club Service Award

Sports Person of the Year (Male and Female)

Academic and Sporting Excellence Award
Club and team awards
Sporting Club of the Year

Representative Sport Team of the Year
Nominations
Nominations have now closed.
Awards will be presented at the annual Sport Awards night on Thursday 12 November at City Flinders Campus.