Thursday 11 September 2014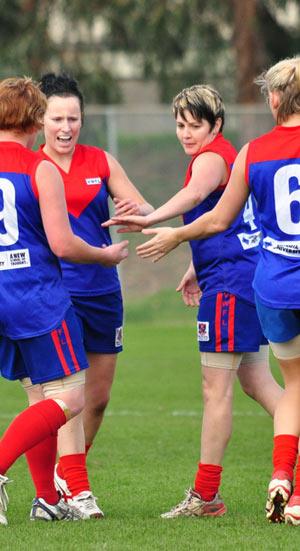 The VU St Albans Spurs women's football team will create history in September, becoming the first women's team to embark on a tour of America playing and promoting Australian Rules football.
The Spurs will play games against US AFL women's teams in Los Angeles and New York, including the New York Magpies, Sacramento Suns, San Francisco Iron Maidens and Boston Demons
The ten day tour will take place between 12 September and 22 September, with the Spurs touring party comprising 33 members. The group will create sporting history, conducting clinics to promote the game and competing in two round robin tournaments.
The VU St Albans Spurs (formerly Sunshine YCW) are a proud women's football club who field two teams in the Victorian Women's Football League. The club also has a Youth Girls team and a junior girls program and was the first female football club established in Melbourne's western suburbs in 1993.
Women's football legend and Spurs founder Debbie Lee, a driving force behind the tour, played her 300th game this season.
"The Spurs are undertaking this trip to provide our members with a unique experience. It will be a terrific adventure that will further galvanise our club and develop our people. This trip also has a great opportunity to promote not only the Spurs, but women's footy and women's sport", Lee said.
Spurs Chairperson Karen Hayes is excited about the trip and what it means for her club.
"The US trip for the Spurs is an exciting opportunity to be the first women's AFL football team to play off shore and to showcase women's football on the global stage", she said.
"It's wonderful recognition of the commitment and passion of the players, administration, supporters and coaching staff that they have actively fundraised in order to provide this unique opportunity for the Club to be the pioneers of such a great initiative."
"As the second oldest women's football Club in Australia, the Spurs will take the opportunity to promote women's football internationally and to share skills and experience with players in the US."
"The trip will also serve as a well-deserved personal and professional development opportunity for all those who will be involved and to build on the international network that has commenced between the US and Australia", Hayes said.
Women's football remains the fastest growing segment of the game with 166,000 women and girls playing the game, 1,975 females umpiring the game and more than 5000 females coaching the game nationally. The growth of the sport is phenomenal and the game continues to grow annually.
Show your support! The Spurs have set up a crowd funding campaign to assist with cost of the trip.