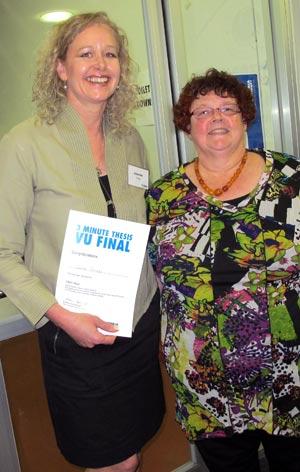 Victoria University has a new 3 Minute Thesis champion.
Joanne Griggs from the College of Health & Biomedicine won the University's 3 Minute Thesis heat on September 12 and then took out the final for her presentation: Prader-Willi syndrome appetite behavior may be cactus, due to a natural suppressant.
She went on to represent VU at the 3MT Trans-Tasman Final at the University of Western Sydney. Check out Joanne's presentation in Semi Final Round 1.
Tea O'Driscoll, College of Sport & Exercise Science, won the People's Choice prize and second place overall for her talk on physical activity in migrant and refugee communities.
Intan Amin (Bintimohamed Intansyafinaz), College of Engineering & Science, was awarded third place for her talk on renewable, compostable and active bio-based food packaging materials.
The judges had a difficult time narrowing down to only 3 place getters as all competitors delivered outstanding presentations.
Dean of the Graduate Research Centre, Professor Helen Borland, said this year's presentations had been the highest quality since VU began the competition in 2010.
We would like to thank each of the VU 3MT competitors on their outstanding presentations and hope to see them back in the competition in 2014.